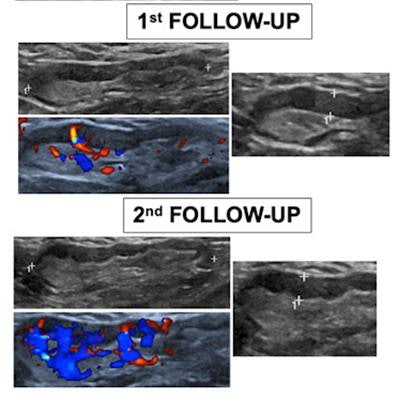 Unilateral axillary adenopathy after receiving the Pfizer-BioNTech COVID-19 vaccination can be visualized with ultrasound scanning, according to Spanish research published on 16 October in European Radiology.
A team led by Dr. Alba Cristina Igual-Rouilleault from the University of Navarra Clinic in Spain found that ultrasound showed that people who had received the COVID-19 vaccine had a larger number of visible nodes, as well as nodes that had a greater maximum diameter and cortical thickness, among other characteristics.
"Both doses of COVID-19 vaccine induced an increase of all axillary lymph node parameters with statistically significant differences, especially in coronavirus-naïve patients," Igual-Rouilleault and colleagues wrote.
The COVID-19 vaccine has been documented in recent months as having side effects on patients such as pain, tenderness, or swelling at the site of vaccine administration, otherwise known as unilateral axillary lymphadenopathy.
This means radiologists should consider recent COVID-19 vaccination history as a possible differential diagnosis for patients with unilateral axillary adenopathy, such as during breast cancer screening, researchers said.
However, there is a lack of detailed information reporting gradual imaging of axillary nodes in vaccinated patients. The authors wrote that they wanted to assess the effects of the Pfzer-BioNTech vaccination on unilateral axillary lymph nodes, comparing nodal basal features with their characteristics after the first and second vaccine doses.
The researchers looked at 91 volunteer employees from the university clinic who participated in the Pfizer-BioNTech vaccination campaign. The volunteers were between the ages of 20 and 65, with an average age of 44 years. Of the total, 72 were females, and a previous history of COVID-19 infection was registered in 26 patients.
Three axillary ultrasound evaluations of the ipsilateral vaccinated arm were performed. They were done before vaccination (baseline), the week after the first dose, and the week after the second dose.
The team recorded the following characteristics: the total number of visible nodes, the maximum measurements of the diameter and cortex, Bedi's classification, and color Doppler evaluation.
Characteristics on ultrasound of patients with enlarged nodes before and after COVID-19 vaccination
Baseline
1st follow-up
2nd follow-up
No. of Nodes (average)
2.96
4.77
6.21
Diameter (average)
15.8 mm
21.1 mm
24.0 mm
Cortex (average)
1.6 mm
3.7 mm
4.6 mm
*All data achieved statistical significance.
The researchers found that patients who were not previously infected by SARS-CoV-2 showed a more significant lymph node response compared to those who were previously infected. They also found that axillary nodes showed benign characteristics more frequently, with mild cortical thickness and preserved uniformity.
However, the study authors said that malignancy exclusion is required in oncologic follow-ups or patients recently diagnosed with breast cancer. They also said percutaneous ultrasound-guided needle biopsy or a short-term follow-up ultrasound is necessary.
More than 50% of patients normalized their cortex value the month after the second vaccination. The team wrote that more studies should be performed to determine the time required to reach basal cortical values.
Igual-Rouilleault and colleagues said this study may be used to help properly manage ultrasound axillary lymphadenopathy in the era of COVID-19 vaccination by identifying subgroups of patients that need close monitoring and perhaps for developing guidelines for clinical use.
"However, further research should be performed to understand and decipher underlying mechanisms," they added.