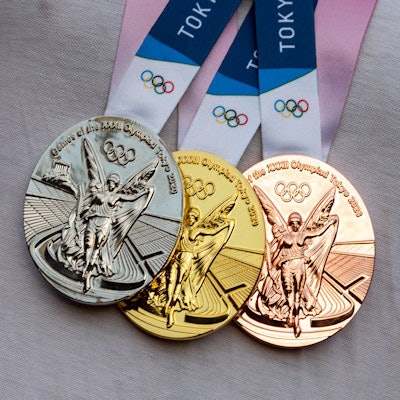 A serious adverse event almost occurred in the MRI scanning suite during the recent Paralympic Games in Tokyo, chief radiologist Dr. Yukihisa Saida has revealed. The incident indicates the importance of finding out exactly what materials an artificial limb is made from.
A male Paralympian visited the MRI suite to undergo a lumbar spine MRI exam, Saida told AuntMinnieEurope.com. On the athlete's checklist for metallic implants, nothing was declared, and a physical check by both a radiographer and a radiologist did not show anything untoward.
"He walked in and lay down on the MRI table. When the table began to move, his leg suddenly raised slightly. The table was immediately stopped and the patient was removed," he recalls. "The athlete was wearing an artificial limb prosthesis. An artificial limb isn't always hard."
Imaging of the Olympic and Paralympic Games 2020 Tokyo went smoothly and was a great success, according to Saida. A total of 254 x-ray and 287 MRI exams were carried out during Paralympics between 17 August and 8 September, and over 90% were musculoskeletal (MSK) injuries.
"Individual athletes and staff were registered according to the accreditation number, which was used both in the ordering system as well as in the PACS. All MRI and x-ray exams were reported by our radiologists," he noted.
Dr. Ryuji Sashi, an MSK radiologist from Akita prefecture in the north of Japan, was in charge of MRI and x-ray services throughout the Games. He was assisted by Emeritus Prof. Kunihiko Fukuda, former chair of radiology at the Jikei University School of Medicine, who worked as a volunteer at the polyclinic.
Also involved at Tokyo 2020 was Tomoko Ueyama, a nurse who previously worked in the department of radiology at Kagoshima University. She has recently worked in the U.S., and her language skills were a great asset to the team, said Fukuda.
"It was a very special experience for me to meet the top-level athletes and a great honor to make a diagnosis on their x-ray and MRI examinations," he told AuntMinnieEurope.com. "When I compare the lists of MR examinations from the Olympics and Paralympics, there is a small difference."
Elaborating on this point, he said the top two MRI examination sites were knee (25%) and lumbar spine (13%) in Olympic athletes, compared with knee (23%) and lumbar spine (22%) in Paralympic athletes.
Overall, staff conducted more spinal MRI scans on Paralympic athletes (lumbar spine 22%, cervical spine 5%, thoracic spine 2%) than Olympic athletes (13%, 2%, and 0%, respectively). This suggests Paralympic athletes are more prone to spinal injuries than Olympic athletes.
On the other hand, ankle injuries accounted for 11% of MRI scans in Olympic athletes, versus 6% in Paralympic athletes.
The two MRI machines (the 1.5-tesla Signa Explorer and 1.5-tesla Signa Voyager) were provided by GE Healthcare, which was a sponsor at the Games. After the end of the Paralympics, the company redeployed the scanners.
By the Paris 2024 Games, radiology staff should be even better prepared for the Paralympics, Saida commented.