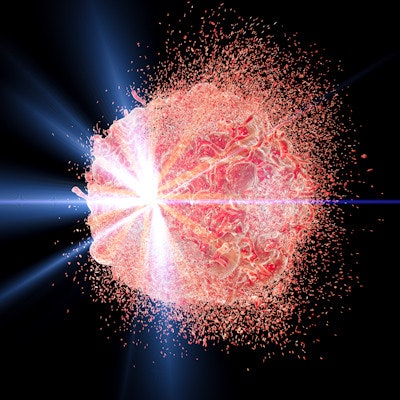 A European team of nuclear medicine specialists has proposed a 10-point plan to overcome the barriers to the clinical implementation of molecular radiotherapy. The plan was published online on 13 March by the European Journal of Nuclear Medicine and Molecular Imaging.
The use of molecular radiotherapy -- also referred to as radioligand therapy, peptide-receptor radionuclide therapy, systemic radiation therapy, targeted radionuclide therapy, and targeted radiotherapy -- is now gaining ground more broadly in oncology, according to Christine Merkel, from the Health Policy Partnership in London, and colleagues.
"Therapies have been approved for a small number of cancers where few treatment options exist, such as midgut neuroendocrine tumors and metastatic castration-resistant prostate cancer, and they have been shown to improve progression-free survival and quality of life for many patients. The approach is also being explored in other cancer and noncancer conditions," they explained in an editorial.
Barriers to clinical implementation
The main obstacles to greater integration of molecular radiotherapy in clinical cancer care are low awareness and understanding; limited professional capacity, training, and workforce planning; unclear models of care; inadequate physical capacity and resourcing in hospitals; evolving legislation, regulation, and policy; and lack of data and research.
To overcome these barriers, the group is calling for greater integration of nuclear medicine into models of care, workforce planning, and hospital resourcing. They also pointed out the need to include molecular radiotherapy in cancer-related policies and strategies such as Europe's Beating Cancer Plan, and to proactively address healthcare system capacity issues to enable the provision of safe, high-quality care.
Overall, they recommended the following 10 specific actions:
Increase awareness of molecular radiotherapy and the role of nuclear medicine among decision-makers, people with cancer, and the clinical cancer community.
Harmonize education and training standards across Europe for nuclear medicine specialists and all members of the multidisciplinary cancer team.
Ensure that nuclear medicine specialists have adequate capacity to participate in multidisciplinary cancer care processes.
Develop clear processes and patient pathways for care in each national context.
Ensure adequate hospital capacity and resources for delivery of molecular radiotherapy to meet current and future demand.
Incorporate molecular radiotherapy into national, regional, and local cancer plans.
Establish clear, consistent regulatory frameworks for the use of radioisotopes spanning approval, funding, and reimbursement.
Ensure continued supply and appropriate disposal policies.
Invest in real-world data on molecular radiotherapy to better understand patient outcomes and cost-effectiveness.
Identify and share best practices to optimize and standardize care.
"As for any evolving treatment modality, it will take concerted effort and the alignment of multiple factors for molecular radiotherapy to be properly integrated into cancer care. A shift towards multidisciplinary working and reevaluation of discrete, independent health specialties is essential -- not just for molecular radiotherapy but for all cancer treatment," the authors concluded.