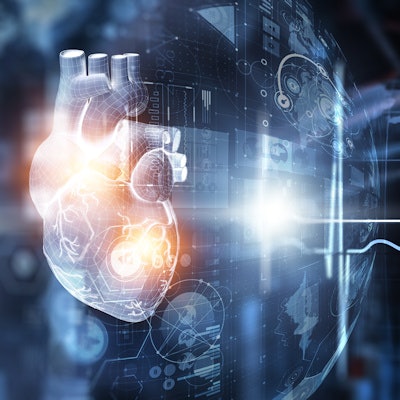 An international team of researchers is working on combining computational modeling and information from medical images to display patient data in the form of a personalized virtual 3D heart model the group is referring to as a "digital twin."
The current shift in healthcare toward precision medicine prompted the researchers, led by Pablo Lamata, PhD, of King's College London, to present a new way to examine patient heart data: projecting a 3D digital twin of patients that displays their health status and relevant data. They argue that these virtual 3D hearts could enhance clinicians' ability to diagnose diseases and predict pathways to restore health in a position paper published online on 4 March in the European Heart Journal.
"We already extract numbers from the medical images and signals, but we can also combine them through a [virtual 3D heart] model to infer something that we don't see in the data, like the stiffness of the heart," Lamata said in a statement from the university. "We obviously cannot touch a beating heart to know the stiffness, but we can give these models with the rules and laws of the material properties to infer that important piece of diagnostic and prognostic information."
The group, called the Personalized In-silico Cardiology consortium, includes experts on cardiovascular health and imaging from the Netherlands, Norway, France, and Spain, among other countries.