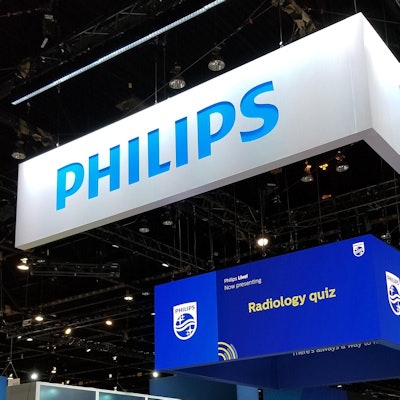 Royal Philips, the parent company of Philips Healthcare, has announced fourth-quarter sales of 6 billion euros ($6.6 billion) in 2019, with 3% sales growth compared with the same period in 2018. But the coronavirus is starting to have a serious impact on its Chinese business.
"We can already see the coronavirus starting to bring public life to a standstill," said CEO Frans van Houten in a press briefing on Tuesday. "Our maintenance staff are being kept very busy, trying to ensure we continue to deliver 24/7 cover to hospitals. We expect demand in China will soften this year."
The company has a sales and service office in Wuhan, with a few dozen people, as well as research and development and manufacturing sites in other parts of China, including Suzhou, Shanghai, and Shenzhen.
China accounted for 15% of the group's global revenue in 2019, and total sales in China rose by 7% over the year. The successful launch of the Azurion angiography platform in China contributed to double-digit comparable sales and order intake growth for the Image-Guided Therapy business in 2019, and the company continues to win large contracts, including an agreement with the Xi'an International Medical Group covering cardiology, radiation oncology, and critical care, van Houten added.
The ongoing trade war between the U.S. and China is taking its toll too. He estimated that the gross effect of the extra duties was $100 million in 2019. The company has shifted some of its production to counter the impact, and this has had a major effect on Philips' Connected Care/patient monitoring unit.
He revealed that Philips is considering selling off its Domestic Appliances division so that the company can refocus on the "innovation potential" of healthcare. The Domestic Appliances division generated revenue of 2.3 billion euros ($2.5 billion) in 2019. Philips has already started creating a separate legal structure for the division, and a firm decision will be made over the next 12 to 18 months, van Houten said.
For 2019 as a whole, Philips' total sales rose by 4% to 19.5 billion euros ($21.5 billion).