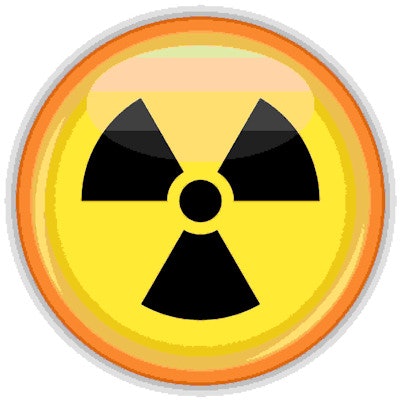 Collecting the data from dose tracking software can help optimize and further reduce dose, but resources and a European effort must help raise awareness, a leading medical physicist said at the recent European Society of Medical Imaging Informatics (EuSoMII) meeting in Valencia, Spain.
Rising concerns about radiation exposure from CT exams have triggered major advances in dose reduction technologies, such as tube current modulation, iterative reconstruction algorithms, and automatic kV selection.
However, the main focus for addressing increasing dose has been on the appropriate use of imaging -- for example, the European Society of Radiology (ESR) iGuide project -- and protocol optimization and dose reference levels (DRLs), while the value of dose management has been largely overlooked, explained Federica Zanca, PhD, the founder of Palindromo Consulting in Leuven, Belgium.
"The first purpose of such software is to track dose, which you need to report the hospital's dose levels to regulatory bodies," she said. "But buying such a system empowers you to do so much more. With the data that is being collected, you can manage dose and optimize new technology, and ultimately know how these new tools that are put on the market impact the clinical workflow."
Moving from a dose tracking approach to a dose management culture requires changing the work routine around dose for the ultimate benefit of the patient, according to Zanca.
Benefits of going from dose tracking to management
In a study published online in European Radiology earlier this year (Brat et al, 29 May 2019), researchers from Switzerland showed that introducing a new routine around dose management helped tailor and optimize dose further than with national DRLs.
Building up a dedicated team and following a number of steps ensured sustainability of the new routine and translated into bigger strides in terms of dose optimization.
"Sustainability is crucial to make dose management a routine task rather than a sporadic event linked to the annual duty of providing doses to regulatory bodies," she explained. "Setting up a dose team, going through protocol harmonization and optimization phases and image quality assessment, allowed us to translate big data into meaningful decisions around optimization and notably define local clinical DRLs."
While the effect of patient size on radiation dose is well established, national DRLs have previously typically provided one single value for an anatomical region. These are based on a standard-size phantom representing an average patient.
Working with a dose management setup enabled the researchers to define local DRLs based on clinical indication and patient body mass index (BMI) rather than anatomical region. As a result, dose was significantly lower than in the national DRLs for a large number of indications.
"When stratifying doses per clinical indications, the median [CT dose index volume (CTDIvol)] and [dose-length product (DLP)] for all abdominal clinical indications and BMI classes was significantly lower than the P75 and P50 national DRLs, except for appendicitis, diverticulitis, and renal infection BMI ≥ 25, for which it wasn't different," she said.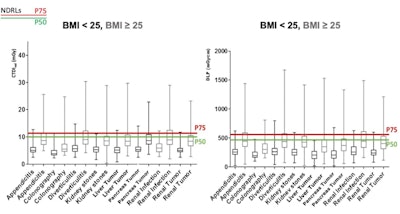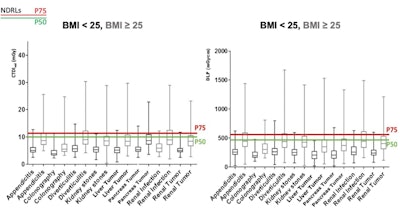 Based on these results, the group has proposed new DRLs that are stratified per clinical indication and per BMI class, using the methodology.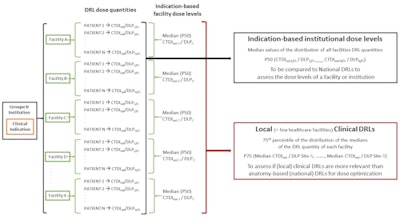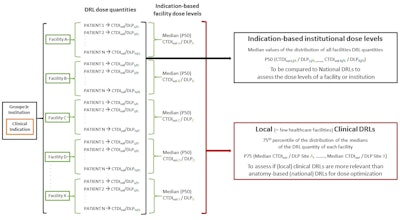 "DRLs based on clinical indication and patient size will allow facilities to optimize protocols and avoid unnecessary radiation exposure to the patient while ensuring diagnostic image quality," she said.
Calling for national and European databases
The benefits of using dose tracking software to improve dose management are not well known yet, according to Zanca.
"People use dose tracking for the regulatory aspect, then they leave it there," she said. "They push the button once a year and that's it."
It is important to build up a conversation around dose management to let users see the value of buying these tools beyond just the annual report.
A current bottleneck is reimbursement. While hospitals are usually reimbursed for a CT scan, they're not for a dose tracking system. The return on investment is harder to quantify in that context, and there is no study showing a clear return on quality yet.
"Reimbursement and protocols vary from one country and even one hospital to the next," she noted. "It's the general problem with [artificial intelligence (AI)]. Every hospital buys its own system and works with its own database."
To have a real effect and a clear return in quality, one must understand the system's potential and dedicate more manpower, time, and money to unleash that power.
"It's not enough just to buy the software, plug it in, and use it. It's not an iPhone," Zanca said. "It requires a team of people to be in place, with the technologists, the physicists, the chief radiologist, [and] maybe the head of the hospital, who define a vision on what is their strategy around dose management. It requires more meetings, analysis of data, and insight into what can you extract from the data."
Another key element to promoting dose management culture is using a common database. Some countries are taking steps in that direction -- for example, Luxembourg with the national patient ID and the patient data dose card. Next steps would be to work with a centralized European database.
"There is a need for a coordinated response involving relevant European agencies, national bodies, and societies," Zanca concluded. "That action would enable users to benchmark all these techniques. That's how you get a real impact."