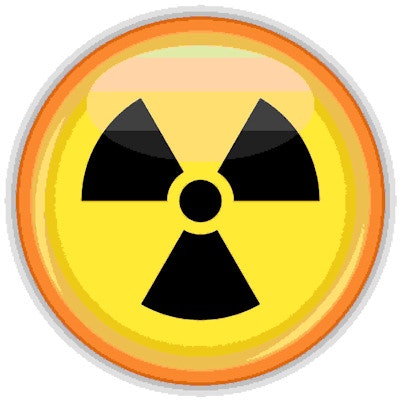 DUBAI - The first ArabSafe committee meeting was held during the Total Radiology Conference at Arab Health 2017 last week. Modeled on the EuroSafe Imaging campaign, the new group aims to establish a radiation safety culture among Arabic-speaking countries and to ensure the appropriate use of radiation in medicine in the Middle East.
"The fact that we do not see or feel radiation makes it even more challenging to deal with its constraints," said Sarah Hagi, PhD, a medical physicist and biomedical engineer in the faculty of medicine at the King Abdulaziz University in Jeddah, Saudi Arabia.
During a session on radiation safety, she told congress delegates that although the International Atomic Energy Agency (IAEA) estimates 3.6 billion x-ray examinations take place worldwide, important questions remain unanswered: How many x-ray machines emit the right dose and how much radiation is scattered to the staff? And how many examinations are actually justified and optimized?
Hagi highlighted the ongoing relevance of the list of 10 important actions for radiation protection in medicine that were outlined by the IAEA and the World Health Organization (WHO) in the Bonn Call for Action in December 2012. As part of a 10-year plan, each action strengthens an area of radiation protection and subdivides them into several sections.
The response to the Bonn Call for Action has been a worldwide campaign led by the scientific societies, government bodies, and regulatory authorities to embrace a holistic approach to radiation safety with a diverse range of stakeholders including radiologists, medical physicists, radiographers, and clinicians.
"I have added biomedical engineers to this list as they conduct vital performance tests on equipment in the department of radiology," said Hagi, who is a board member of the National Radiation Safety Program at the Saudi Food and Drug Authority (SFDA).
From Europe to the Arab world
EuroSafe Imaging, an initiative created by the European Society of Radiology (ESR), has responded to the Bonn Call for Action with a number of important activities including developing clinical audit tools, clinical decision support systems, and e-learning platforms.
"We are looking forward to utilizing some of the outcomes from EuroSafe and, following in the footsteps of CanadaSafe 2015, AfroSafe 2015, LatinSafe 2015, and JapanSafe 2015; we are now seeing a lot of movement toward radiation protection in the Arab world," she noted.
Within a year, ArabSafe was established with the support of the WHO and professional societies from across the region. It will seek to adhere to the Bonn Call for Action and to involve radiation professionals in Arab countries in promoting the beneficial use of radiation through education, dose monitoring, recording, and reporting, and the establishment of diagnostic reference levels (DRLs). It plans to promote the use of guidelines, create public awareness on radiation safety, and help develop a radiation safe culture in healthcare facilities.
"These may sound like standard practice, but I can assure you that this is not standard practice in so many Arab countries at the moment," Hagi explained.
Phase I of ArabSafe 2017 will involve the following six main objectives:
Establish DRLs for all imaging procedures
Promote safe pediatric imaging
Promote the use of appropriate imaging referrals
Involve the industry in setting standards for safety and reducing exposure parameters
Organize radiation protection training courses for healthcare workers
Educate the general public about safety in diagnostic imaging
The group will work with the relevant authorities, scientific societies, and industry in order to enable Arab countries to identify and address issues arising from radiation protection in medicine. "We stand for the well-being of our population and the promotion of quality and safety in medical imaging," she said.
Industry's role
The U.S. Food and Drug Administration (FDA) has also pledged its support for the Bonn Call for Action and remains keen to strengthen radiation protection. "One of the areas where the FDA is actively implementing this is the manufacturers' role in radiation protection and safety, and we are also actively working on this in the SFDA," she explained.
Dr. Guy Frija, chair of EuroSafe Imaging and professor of radiology at the Hôpital Européen Georges-Pompidou in Paris, touched upon this point and used the example of how car manufacturers would not be able to sell a car without an airbag. He explained that the same should apply to any CT or x-ray machine. A customer should not be able to buy a system and install it in a hospital without dose-reduction software or software that can immediately record how much radiation the patients and medical staff are exposed to.
"It is quite shocking to see that manufacturers offer this software as a tool, rather than a requirement," he noted.
For more information about ArabSafe and how to get involved, click here.