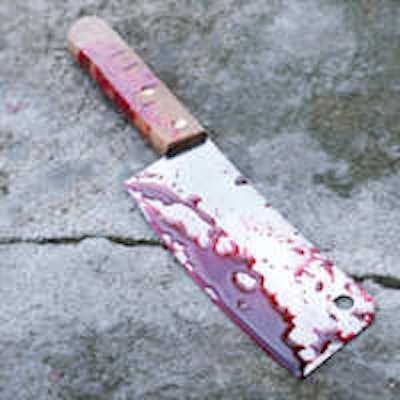 Dual-phase (arterial and portal venous) CT should be performed in all patients with penetrating stab wounds to the torso, and specific focus must be placed on assessing for diaphragmatic and bowel injuries, according to a new study from a top London hospital.
"Don't be fooled by an innocuous entry wound, it may mask a significant internal injury," noted Dr. Joel Dunn, from the department of radiology at St Mary's Hospital, Imperial College National Health Service (NHS) Trust, who shared his experiences in an e-poster at RSNA 2014.
As part of the trauma team attending the patient in the emergency department, radiologists can gain valuable clinical information vital for interpreting subsequent CT scans. They need to bear in mind that dual-phase CT is an excellent tool for predicting injuries related to penetrating stabbing injuries to the torso, but a negative scan cannot entirely exclude gastrointestinal luminal injuries, diaphragmatic injuries, and peritoneal violation, he explained.
Offences involving a sharp instrument accounts for around 7% of all U.K. crimes, and this figure increases in London. In 2013, there was an average of 11 life-threatening stabbings a month, predominantly in the 11 to 25 age group, and NHS figures for England suggest nearly 5,000 people were admitted to hospitals in 2013 due to assault by a sharp object, stated Dunn and his colleagues.
St. Mary's is a level 1 trauma center, and one of only 12 adult and children's major trauma centers in the country, four of which are located in London. More than 2,500 patients a year are seen in the emergency department by the consultant-led trauma team at St. Mary's. The radiologist is an integral member of this team, and attends all trauma calls, performs focused assessment with sonography for trauma (FAST) scans, and actively liaises with the trauma team leader to decide on further imaging and patient management.
For penetrating torso injuries, a 256-slice dedicated trauma CT scanner is available. Dual-phase arterial and portal venous CT of the neck, chest, abdomen, and pelvis is carried out, and the bolus is tracked using 100 ml of intravenous Iomeron 400. For buttock stabbings with possible rectal involvement, 50-100 ml (5% Omnipaque 300) is administered per rectum. In the case of a potential renal injury, a 10-minute delayed CT urogram is performed.
The researchers listed the following characteristics for neck stabbings: marked abnormal findings relative to innocuous wound, signs of vessel injury (irregular margins, filling defects), contrast extravasation and reduced enhancement, vessel caliber change, hematoma close to vessel, and indistinct perivascular plane. CT has low sensitivity for airway/esophageal injury, and may necessitate exploration.
"If there is evidence of both thoracic and abdominal injuries, by definition the diaphragm must be compromised," they explained. "The incidence of diaphragmatic injuries discovered at exploratory laparotomy in patients with penetrating injuries to the lower chest and abdomen has been reported as high as 19%. In some studies, occult diaphragmatic injuries are present in up to 42%."
Diaphragmatic injuries are associated with significant morbidity and the management of such injuries in hemodynamically stable patients remains somewhat contentious, according to the authors. A high index of suspicion is required to detect and optimally manage penetrating injuries to the region bound by the horizontal planes from the nipples to umbilicus, called the junctional zone. Added scrutiny should be placed on interpreting imaging in patients with penetrating injuries to the junctional zone, and the diaphragm should be assessed in multiple planes, they recommended.
Triple contrast helical CT has been shown to be accurate at predicting the need for laparotomy and excluding peritoneal violation; and oral luminal contrast does not significantly improve accuracy in reporting luminal gastrointestinal injury but only prolongs the time to diagnosis, they continued. Stab wound sinography has historically been used to assess peritoneal viability, but has been reported to have little additional benefit.
"At our institution, all anterior abdominal stabbings considered serious enough on physical examination to warrant a dual-phase CT study proceed to trauma laparoscopy to assess for peritoneal violation and organ injury, regardless of CT outcome," they noted. "Any penetrating stab injury that is in close proximity to the peritoneum, even if there is no clear evidence to suggest intraperitoneal injury on CT, must be explored with laparoscopy."
Portable chest radiographs should be performed in all torso stabbings, always consider associated structures and anatomy, and interventional radiology should be considered in all hemodynamically stable patients with confirmed active bleeding (on dual-phase CT) from a solid organ, advised the researchers.
A wound tract extending to the adjacent bowel is a common finding in patients with bowel injuries, and bowel wall-thickening and mesenteric stranding also occurs frequently. Extravasation of luminal contrast is not a reliable indicator of bowel injury, and it may also mask bowel wall-thickening and there is a significant time delay for oral contrast to transit the bowel. The presence of free intraperitoneal gas is a nonspecific finding in penetrating trauma as this may be introduced along the wound tract, they pointed out.
"Rectal contrast should be administered in all buttock stabbings," they stated. "If peritoneal violation has been confirmed, the presence of free intraperitoneal gas and free fluid/hemoperitoneum, in the absence of solid organ injury, suggests hollow viscus injury and the patient should undergo at the very least a trauma laparosopy."
Dunn et al described the case of a young man with anterior chest stabbing. He had a single stab wound to the left part of his chest, 5 cm below the clavicle, and was hemodynamically unstable. The primary survey revealed a left-sided pneumothorax, and a FAST scan confirmed the finding. A chest drain was inserted, after which the patient's condition stabilized.
He had a "combiscan" CT of the chest, abdomen, and pelvis, using two boluses of contrast (65 ml at 1.5 mL/s, followed by 65 mL at 3.5 mL/s), resulting in simultaneous arterial and portovenous enhancement. This revealed a small residual hemothorax with an appropriately sited chest drain.
No abdominal injuries were identified. The patient was stable and was admitted for observation. One hour later, the patient deteriorated, becoming tachycardic and hypotensive, and a repeat FAST scan revealed a large hemoperitoneum. After resuscitation, a dual phase (arterial and portal venous) CT revealed a left lobe of the liver laceration with active bleeding.
The patient proceeded to laparotomy and liver packing, following which he had an uneventful recovery. On reviewing the admission imaging, a subtle blush of contrast was present in segment IIa of the liver. This would have been amenable to endovascular treatment prior to definitive surgery to fix the diaphragmatic injury. The main lesson to draw from this case is that dual- (arterial and portal venous) phase CT is required for all penetrating stabbing injuries to the torso, concluded the authors.