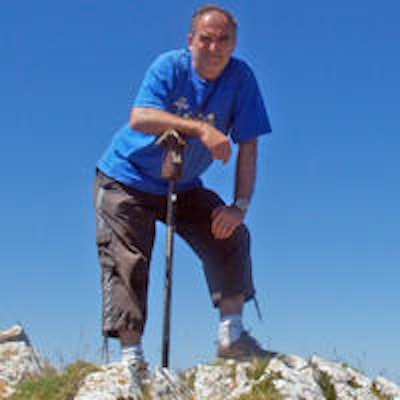 The Spanish Society of Radiology (SERAM) is working hard to ensure its members are at the forefront of the medical process. It is giving high priority to boosting the visibility of radiologists by pushing ahead with its new public campaign, "What's your radiologist's name?"
"Radiologists tend to hide behind their studies and avoid meeting the patient," said SERAM President Dr. José Luis del Cura Rodríguez. "This is a mistake, which makes us weak! We need to reach out to the patient."
He took up his new post in May 2014. In an exclusive interview, he presents a vision of the future and outlines his plans to tackle the challenges facing radiology in Spain.
AuntMinnieEurope.com: What are the objectives of SERAM's awareness campaign?
The visibility of the radiologist is a major concern. Initiatives like the International Day of Radiology show that this is a burning issue.
The problem for radiologists is they remain hidden during the medical process. Patients consult physicians, who refer them to radiologists, but there is no relationship between patients and radiologists.
Patients can choose their own doctor, but no one ever thinks to pick a radiologist. However, 80% of clinical decisions today are made with the support of imaging. We think it is just as important to choose a good radiologist, and from this belief we have built up a concept around the catchphrase "What's your radiologist's name?"
We want to raise not only public awareness of radiologists, but also the radiologists' awareness.
What is your agenda for the coming years?
SERAM is already the largest Hispanic society worldwide in terms of membership and we wish to grow further. We have recently opened membership to radiologists from other countries and want to improve our institutional relationships, especially with Pan-American societies. We want our annual congress to become the meeting of the whole Hispanic radiological community.
Also, we will improve our online education offerings to be available to radiologists everywhere. We will continue to contribute to the future of our discipline, and recently sent out documents and position papers to the European Society of Radiology (ESR) regarding some aspects of professional life.
What are the main challenges facing radiology in Spain?
As anywhere else, our main challenge is to improve the quality of our services. We have a problem of visibility and need to renovate our equipment, especially ionizing radiation equipment. We are therefore working hard to increase the health administrators' awareness.
We also face a critical shortage of radiologists. Austerity measures have led to a reduction of the number of residents in radiology, who are unable to fill our current necessities.
We are extremely concerned about the new national training scheme, which plans to fuse radiology and nuclear medicine during the first two years of training, leaving only two years of actual specialization after that. This is going to be a big problem in the near future, and it will further decrease the number of radiologists. This plan was decided without any prior consultation, and neither the radiologists nor nuclear doctors support it. It is definitely taking us further away from the European five-year training plan.
What is your opinion about teleradiology?
It is a wonderful tool ... but, just like the force, it has its dark side! We regularly receive offers from Latin American countries to hire radiologists, who are neither qualified nor accredited to work in Spain, to interpret imaging studies at a very competitive price and without the patient knowing. These activities are of course illegal and we will do everything we can to fight any attempt to buy radiologists on a fee-per-item basis. For instance, we are about to publish guidelines of good teleradiology practice.
What will be the central theme of the next SERAM meeting?
Our congress is biannual, so our next meeting will be in May 2016 in Bilbao. Our main theme will be basic radiology. Residents are forgetting about this great tool, it is not attractive. As a result, many radiologists in Spain don't know how to use basic imaging methods, which are the basis of our profession.
Overall, are you optimistic about the future of radiology in Spain?
I am optimistic about the future of our discipline, but I am not sure about the radiologists' future. Technology is improving and is becoming increasingly central in healthcare. But radiologists can be substituted; they are already contracted on a fee-per-item basis, and at a very low fee sometimes. It is more and more tempting to hire a radiologist for 6 euros in Paraguay rather than a radiologist who works in Spain. The future will mainly depend on our attitude and ability to take a central role in the clinical process, to get more involved with patients, and in clinical decision-making.