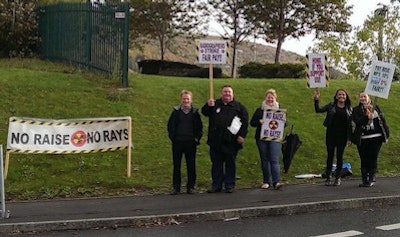 U.K. National Health Service (NHS) radiographers went on strike as planned on 20 October from 9 a.m. to 1 p.m.
BBC News reported 550 nonurgent scans and x-rays were canceled and rescheduled across Wales, affecting hospitals in Cardiff, Swansea, Newport, Aberystwyth, Wrexham, and Bangor. Cancer care and emergency examinations were not targeted, however.
Society of Radiographers (SoR) members will follow a work-to-rule policy for the rest of this week in which staff will refuse to do unpaid overtime and insist on taking their breaks, according to BBC News. The strike is a consequence of a pay freeze.