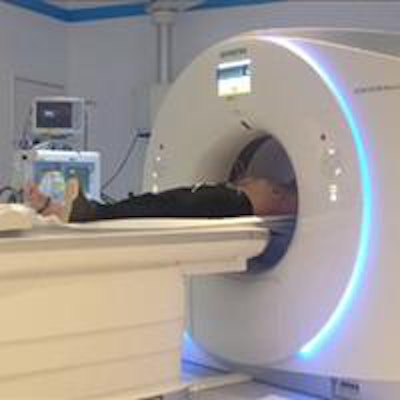 Operating the new third-generation dual-source CT (DSCT) scanner 24/7 has revealed a rapid system with robust imaging capabilities and an array of new features to perform heart scans at low doses, according to researchers from a leading German facility.
To hear one radiologist tell it, the new DSCT scanner (Somatom Force, Siemens Healthcare) can provide good results in a variety of patient settings, from ruling out coronary disease to using CT for chest pain, as well as transcatheter aortic valve implantation (TAVI) planning and symptomatic coronary artery disease.
"We do this turbo high-pitch scan mode with ECG triggering quite successfully, with good image quality," said Dr. Hans-Christoph Becker at the 2014 International Symposium on Multidetector-row CT. "We can reduce the amount of contrast for the TAVI scan, and we now have the option of whole-heart CT perfusion."
Ruling out CAD
For ruling out coronary artery disease, the new system allows for single-beat acquisition of the heart, regular breathing during the scan, low kVp, and high-pitch spiral acquisition that enable scanning with usually less than 40 mL iodinated contrast and usually less than 1 mSv of radiation dose, noted Becker, a professor of radiology at Ludwig-Maximilians University, Grosshadern Clinic in Munich.
The relationship between heart rates and image clarity remains somewhat variable. Scan quality is better at lower heart rates. But using the scanner daily in a busy clinic, the group has found the high-pitch scan mode capable of delivering very clear images in fast hearts. Even so, "some patients with lower heart rates ... tend to have motion [artifacts] in scans acquired with high-pitch mode," he said.
Chest pain CT
For patients with chest pain, triple-rule-out scans and ECG-gated scans can be acquired rapidly at low radiation doses of 2 mSv or less, and moderate amounts of contrast, usually less than 60 mL. It's possible to "investigate the whole trunk at a max scan speed in cardiac turbo flash mode at 737 mm/sec, a very fast scan mode combined with ECG triggering," he said.
TAVI planning
TAVI planning scans are increasingly common, and with the Somatom Force can be acquired at low doses and low iodine exposure of 60 mL or less, providing access route visualization as well, Becker said.
Caption: Patient underwent a whole-body TAVI planning scan at 90 kVp, with image quality sufficient to delineate the aortic root.
Symptomatic CAD
Finally, for patients with symptomatic coronary artery disease, the scanner has a protocol that includes coronary CTA with stress whole-heart CT perfusion and dual-energy late enhancement, at a total radiation dose of less than 10 mSv, Becker said.
Third-generation DSCT with ECG-gating offers robust imaging of the coronary arteries, reduced contrast media use, and options for whole-heart perfusion CT at low doses, Becker concluded.