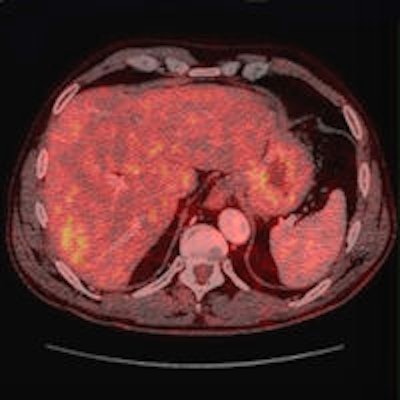 In Western Europe during 2012, there were 577 providers of PET and/or PET/CT, of which 18 were mobile, and PET/CT accounted for 92% of the installed systems, according to new market research presented last week at the European Association of Nuclear Medicine (EANM) annual congress, held in Lyon, France.
PET/MRI accounted for only 0.02% of systems, while FDG accounted for 95% of the studies, and of the FDG studies the vast majority (92%) was oncology, reported Anthony Stevens, PhD, director of Medical Options in London, during an EANM session on Molecular & Multimodality Imaging: Hybrid Imaging - Image Processing & Quantitation. Fluorinated molecules made up nearly half of other compounds and are used at around a third of sites; F-Choline accounted for 62% of these fluorinated studies and sodium fluoride (NaF) studies for less than 10%. Carbon (19%) and gallium (17%) were the other significant nuclei in use.
The use of F-18-FDG may double if the proportion of patients in regions with low adoption meets that of high adopters, Stevens predicted. Also, the growing use of other compounds bodes well for the introduction of new molecular entities over the coming years.
Scan numbers rose by 19.6% from the 921,000 scans estimated for 2010, but is slowing as the technique matures, he noted. There are wide variations across Europe, both in terms of examinations performed and patient throughput. In some cases, this is due to reimbursement, and in others it is because of working practices and patient catchment.
The provision of PET and PET/CT in Europe is extremely heterogeneous, with a large variation in scans per head of population between countries, and within countries, workload varies widely between different providers, Stevens stated. These variations between facilities, as well as the number of new installations and the rapid growth in workload at existing sites, precluded a sampling approach and required identification of all European PET providers.
He identified facilities with PET, PET/CT, and or cyclotron(s) from a number of sources, including the records of the International Atomic Energy Agency (IAEA), manufacturers of diagnostic equipment, and sites providing nuclear medicine service, and then he asked sites to describe their operations, including their equipment profile, the number and types of patient studies performed, and their use of radiotracers.
"We were able to identify over 95% of the PET, PET/CT, and cyclotrons operating in Western Europe; 67.5% of these sites provided workload numbers for 2012," Stevens reported. "To project total workload, we employed a segmentation scheme for each country or region which identified 10 types of facility, allowing us to estimate more accurately patient numbers at sites who did not contribute workload data."
According to research company IHS, the market for PET/CT (systems only, excluding installation costs, services, etc.) in the Europe, Middle East, and Africa (EMEA) region was worth approximately $180 million U.S. (130.8 million euros) in 2012. In terms of units, that amounts to around 80-100 units annually installed. The outlook for the market is relatively weak, however, mostly due to the ongoing economic challenges. Many institutions have postponed or cancelled PET/CT projects in recent years, and the markets in Southern and Eastern Europe have been hit especially hard, IHS states.
The five-year unit shipment compound annual growth rate (CAGR) for the region is pretty much flat, and continued decline is anticipated in 2013-2014, followed by some recovery in 2015-2017. The company predicts the Middle East will contribute significantly to the market in the long term. Its approximate split between regions is 65% in Western Europe, 10% in Central and Eastern Europe, and 25% in Middle East and Africa (almost all Middle East).