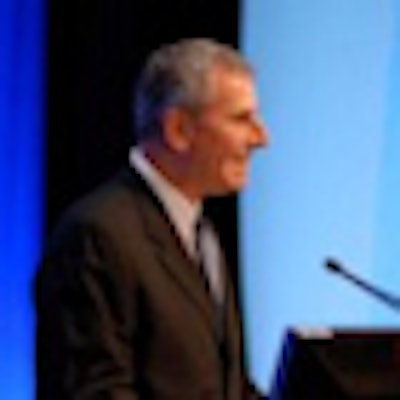 CHICAGO - Radiology is beset with challenges ranging from regulatory to monetary. However, in his presidential address at the RSNA 2011 meeting, Dr. Burton Drayer said he preferred to focus on the "rainbows instead of the impending storm clouds."
Sometimes pessimism gets the best of us, said Drayer, who is also radiology chairman at Mount Sinai School of Medicine in New York City. It's easy to think that radiology is threatened, which it is, but he likened radiology to the Pebble Beach golf course in California.
"To me, this scene of the short par three seventh hole represents a cup half full," he said. "Majestic beauty and excitement. Yet, still fraught with potential dangers from the ocean, from sand traps, and uncontrollable forces like the wind," he said.
There are obvious obstacles, but radiologists have been the incredibly fortunate beneficiaries of a diagnostic revolution that's occurred over the past 40 years, he said. Extraordinary equipment advances have made imaging the definitive diagnostic and screening tool. Innovation and leadership have been demonstrated in interventional therapeutics and bioinformatics. Radiologists use safer and more accurate contrast media. In addition, they have become research and administrative leaders.
In his address to a packed Arie Crown Theater, Drayer demonstrated the drastic advancements that have occurred since Godfrey Hounsfield first helped to develop CT. These days, for example, patients don't need to suffer through an encephalography exam, a procedure that often resulted in a week's hospital stay just for recuperation. An MRI of a brain stem mass, showing the same thing that could be found in an encephalogram, only better, can be done noninvasively in 30 minutes as an outpatient procedure.
"Rather than becoming violently ill from the diagnostic test, this patient can instead complain they waited 25 minutes to get this study," Drayer said.
He highlighted example after example of innovation in radiology, such as 9.4-tesla MRI.
"The 9.4-tesla MRI specimen makes one realize where we can be on a par with high-resolution pathology slides," he said. "This spectacular spatial resolution and contrast that we now see using 9.4-tesla MRI is what we need to strive for over the next decades as a standard for our routine clinical care."
Other areas of innovation will include sophisticated imaging for genomic and molecular diseases, according to Drayer. There will be precise image phenotyping, early detection and prevention using low-dose techniques, and the ability to meet evidence requirements using statistical predictor modeling.
Drayer also predicts the following:
More therapeutic and diagnostic innovations
The expanded use of image-guided interventions in an ambulatory setting
Imaging biomarkers used more commonly to quantitate therapeutic efficacy
New applications of imaging in psychiatric and neurodegenerative disorders
Greater image sharing, design support, computer-aided diagnosis applications, and portability
"We are the extremely fortunate," he said. "The radiologists in academic medical centers [and] private practices throughout the world are innovative, flexible, and readily able to adapt as evidenced by their emerging leaders in the changing world of healthcare over the past 40 years. We will continue as advocates for transformative imaging and patient care. I salute all of you as we celebrate this week the radiology teams and organizational volunteers that have made radiology the vibrant specialty that it is today."