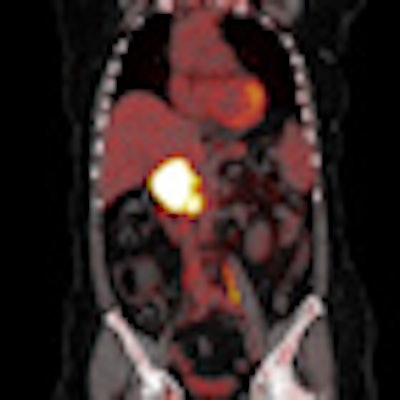 Results from a large study performed at a leading university hospital in Madrid have confirmed that PET/CT is a powerful technique for the preclinical detection of second primary tumors in oncology patients. The findings were presented at this week's European Association of Nuclear Medicine (EANM) annual congress, held in Birmingham, U.K.
Among 837 patients investigated at the Hospital Universitario Puerta de Hierro de Majadahonda, PET/CT detected second tumors in 2.1% of the sample. The most frequent location of these tumors was in the colon, followed in order by the lung, breast, thyroid, and brain.
The appearance of synchronous or metachronous tumor is one of the most important causes of treatment failure and death in patients with primary neoplasm diagnosed in early stage, according to lead presenter Dr. A. Gomez-Grande, from the department of nuclear medicine. The risk of a second primary tumor is twice as great in cancer patients compared with the healthy population, and previous studies have shown that the incidence is between 1.7% and 4.8%.
"Imaging techniques based on morphological findings have a relatively low sensitivity for their detection," Gomez-Grande explained. "F-18 FDG-PET/CT has demonstrated good results in the screening, staging, and prognostic assessment of many tumors and detecting malignancy in clinically asymptomatic patients."
The researchers looked at a total of 837 examinations carried out with F-18 FDG-PET/CT between June 2009 and May 2010. Their inclusion criteria were patients with abnormal F-18 FDG uptake that suggested a second primary tumor, based on its location and/or metabolic behavior. They compared the results of PET/CT with histology or clinical follow-up carried out within three months of the initial investigation, and assessed the percentage of verification by the referring physician.
In 60 (7.2%) cases, a second tumor was suspected. During follow-up, eight patients died. Of the 52 cases reviewed, the referring physician did not perform any diagnostic confirmation in 20 (38.5%) patients. In 32 (61.5%) patients, diagnostic tests were performed to confirm PET/CT findings. Pathology was confirmed in all cases. The second incidental tumor (premalignant or malignant) was confirmed in 18 (56.3%) cases. A benign tumor was found in nine (28.1%) cases, and inflammatory disease was found in five (15.6%) cases, three of which were colon-related, one of which was gastritis, and one of which was cholelithiasis. The most common location of a second tumor was the colon (six cases), followed by the lung (five), prostate (two), breast (two), thyroid (two), and brain (one).
"More than a half of the second primary tumors suspected by PET/CT that are further investigated are finally confirmed as a malignant or premalignant lesion. Nevertheless, it is worth stressing the importance of the findings due to the fact that in a high number of cases complementary explorations are not performed," Gomez-Grande concluded.
Editor's note: PET/CT image on the home page is courtesy of Osman Ratib, a professor in the department of radiology at University Hospital of Geneva, Switzerland.