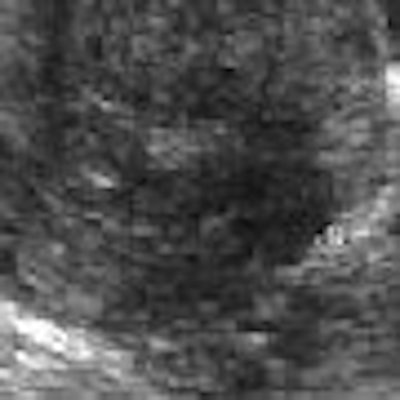 It could be called the Goldilocks effect: When it comes to the ultrasound-based treatment of uterine fibroids, clinicians should target patients whose benign tumors are not too big or not too small. In the latest issue of the American Journal of Roentgenology, researchers from Italy determined that percutaneous sonography-guided radiofrequency thermal ablation (RFA) was particularly adept at shrinking medium-sized fibroids.
And in the December Journal of Obstetrics and Gynaecology Research, a Japanese team found that MR-guided focused ultrasound (MRgFUS) surgery was an optimal therapy option for fibroids with characteristics that are "just right" on preoperative imaging.
Medium-sized myomas
Compared with other ablation techniques, such as cryotherapy, RFA is relatively inexpensive and easy, wrote Dr. Chiara Recaldini and colleagues from the departments of radiology, anesthesiology, and ob/gyn at the University of Insubria in Varese, Italy. In their prospective analysis, "the primary end point was feasibility of radiofrequency ablation as (a) single procedure performed percutaneously under sonographic guidance," they explained (AJR, December 2007, Vol. 289:12, pp. 1303-1306).
The research began with six women (median age of 41.2) undergoing preoperative suprapubic and transvaginal sonography to assess the number, size, and location of myomas. All the patients had one symptomatic uterine myoma each. The median volume was 58.57 cm3 and the median diameter was 4.87 cm.
Percutaneous RFA (RF3000 Generator, Boston Scientific, Natick, MA) was performed under moderate sedation. The target temperature in the tissue was set at 85° C. Contrast-enhanced, microbubble-specific suprapubic ultrasound (Sonovue, Bracco Diagnostics, Princeton, NJ; Technos MPX, Esaote Biomedica, Genoa, Italy) was used as a real-time guide for the transabdominal procedure. The operative time came in at a median of 20 minutes.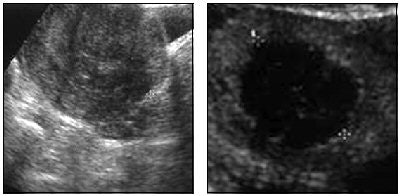 A 42-year-old woman with menorrhagia and pelvic pain due to 4.6-cm uterine myoma. Left, suprapubic sonogram shows hypoechogenic intramural myoma. Right, contrast-enhanced sonogram after radiofrequency ablation shows anechogenic avascularized round area (treated myoma) surrounded by normal vascularized myometrium confirming success of ablation and absence of myometrial injury. Recaldini C, Carrafiello G, Lagana D, Cuffari S, Bergamini V, Ghezzi F, Fugazzola C, "Percutaneous Sonographically Guided Radiofrequency Ablation of Medium-Sized Fibroids: Feasibility Study" (AJR 2007; 189:1303-1306).
The mean follow-up period was nine months and included transvaginal sonography as well as quality-of-life (QOL) questionnaires. According to the results, no repeat intervention was needed during the follow-up period. Based on the last follow-up visit, the median fibroid volume was reduced to 8.07 cm3 while the median diameter shrunk to 2.3 cm. The median QOL score 63.92.
The authors offered several take-home messages from this preliminary study. First, patients with myomas larger than 6 cm -- or multiple myomas -- are ineligible for this single-procedure technique. Also, the use of contrast-enhanced sonography offers precise targeting in highly vascularized areas, in addition to depicting changes in tissue echotexture during the procedure. Finally, interventional radiologists are best-suited to perform this procedure as accessing superficial as well as deep organs is highly operator-dependent.
Recaldini and many of her co-authors will present an education exhibit on RFA of abdominal tumors at the 2007 RSNA meeting in Chicago, looking specifically at postablation syndrome, which can include low-grade fever and myalgia (LL-VI5147).
Symptom improvement
In another new paper, a group from Japan took a different aproach -- MRgFUS -- to treating fibroids. Unlike tumors, fibroids are not malignant entities, making it all the more important for a treatment method to provide symptom relief, explained Dr. Kaoru Funaki and colleagues from the departments of gynecology and surgery at Shinsuma Hospital in Kobe, Japan. Radiologic technologist Syuji Nagai also contributed to this research.
"The need for low invasiveness is one of the most important factors when dealing with benign tumors; MRgFUS achieves this objective," wrote Funaki's group. "The objective of this study was to determine the clinical outcome of MRgFUS, focusing on symptom improvements" (Journal of Obstetrical Gynaecology Research, December 2007, Vol. 33:6, pp. 834-839).
For this prospective study, 69 women (mean age of 40.2 years) underwent MRgFUS (ExAblate 2000, InSightec, Haifa, Israel). Fibroid diameters ranged from 3 cm to 14 cm. On pretreatment T2-weighted MR, fibroids were classified by signal intensity:
Type 1: low signal intensity; same as skeletal muscle
Type 2: intermediate signal intensity; lower than myometrium but higher than skeletal muscle
Type 3: high signal intensity; same as or higher than myometrium
A maximum of four fibroids were treated during one procedure. A 0.5-cm minimum margin was maintained from the edge of the ablated area to the edge of the uterus. During MRgFUS, the focal area temperature ranged from 60° C to 90° C, based on an MRI-based thermal map. The mean sonication time for the procedure was two hours and 30 minutes.
The mean follow-up period was 15.4 months. At various intervals before and after treatment, the women were asked to assess the severity of their symptoms, as well as their overall satisfaction with post-treatment symptom changes.
According to the results, all patients completed the MRgFUS procedure, and cavitation did not occur during any of the sonications. Eight of 69 women required a second MRgFUS treatment, while seven underwent alternative treatment such as uterine artery emoblization (UAE).
Heavy bleeding was the most commonly reported symptom, but one month after MRgFUS all women reported reductions in bleeding, urination frequency, and dysmenorrhea. Almost 80% of the patients reported some improvement in their symptoms, the authors noted.
Overall, type 3 fibroids proved to be the most problematic. Of the seven women who required different treatment, five had type 3 fibroids. Also, patients with type 3 fibroids were more likely to hit the "panic button" during treatment, indicating that they felt pain on the skin surface. Finally, type 3 fibroids also required the largest amount of acoustic power: 2,587 joules versus 1,516 joules for type 1 and 1,134 joules for type 2.
The authors concluded that type 3 fibroids were more difficult to ablate than type 1 or type 2 fibroids, perhaps because of a variation in blood flow patterns, making type 3 tumors particularly resistant to MRgFUS. This may have caused patient pain during the procedure, thereby limiting the power and peak temperature achieved during sonication.
In related news, at the 2007 RSNA meeting, Dr. David Gianfelice and colleagues from the University Health Network in Toronto will share their experience with a new sonication technique that relies on the controlled formation of microbubbles, which then implode to create larger areas of thermal ablation. They believe this method increases MRgFUS efficiency and shortens treatment time (SSA07-01).
By Shalmali Pal
AuntMinnie.com staff writer
November 20, 2007
Related Reading
MRI-guided focused ultrasound surgery a durable treatment for fibroids, August 7, 2007
Multiple-electrode radiofrequency ablation useful for hepatic malignancies, July 12, 2007
MRgFUS an option for many women seeking less invasive fibroid treatment, June 18, 2007
MR signal, nonperfusion drive long-term success of MR-guided focused US therapy, May 23, 2007
Laparoscopic radiofrequency thermal ablation safe and effective for fibroids, March 15, 2005
Copyright © 2007 AuntMinnie.com