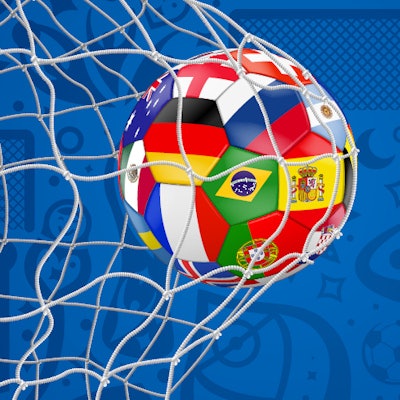 Radiologists now have a central role to play in medical reports on elite athletes, particularly in presignings involving high-earning football players, according to the author of an article published online on 17 July in the European Journal of Radiology.
Given the lucrative nature of many contracts today, much rides on the presigning medical for both the player and the club, so musculoskeletal (MSK) radiologists and clinicians must try to glean as much history as possible, explained Dr. Andrew Dunn, a consultant MSK radiologist at Royal Liverpool University Hospital in the U.K.
Imaging reports must be accurate and provide the necessary information without generating undue alarm so that club managers can make informed decisions ahead of investment, and it's essential to keep aware of the challenges and pitfalls of examining sportsmen and sportswomen for injury prior to contract signing, he added.
The first MRI scan of a new player provides the baseline image to document the current status of commonly injured body parts, and if imaging identifies abnormalities that might be unstable or progressive, such as an osteochondral knee lesion, then this may influence transfer negotiations, Dunn noted. The MRI scan also serves as a comparison for potential future injuries, which can be helpful to the radiologist, particularly if preclinical abnormalities were depicted in the original presigning medical exam.
To date, it has not been common practice to provide medical images to a player's new club. However, there are calls to introduce an imaging "passport," which, like a DICOM or PACS folder, would contain a player's entire history of previous images. This passport would accompany players as they transfer between clubs -- a move that may prove popular with medical teams for signing exams but less so with club managers wanting to sell players and with players and their agents, he pointed out.
Essential protocols
Due to time constraints ahead of a signing, radiologists should aim to streamline protocols, according to Dunn. The most common areas to scan are the lumbar spine, pelvis (including hips), knees, and ankles. If the athlete has a significant history of major or recurrent injury in a specific area, such as the hamstrings, then additional body regions may be included accordingly.
Although most lumbar spine MR images are normal, radiologists typically use sagittal T2, short-tau inversion recovery (STIR), and high-resolution T1 imaging of the lumbar spine with axial T2 sequences through the two most caudal disk spaces. The most common abnormalities are disk degeneration and small disk herniations that are often incidental subclinical findings. STIR and high-resolution T1 acquisitions can detect spondylolysis.
The knees are another key focus of the presigning exam due to the high load volume and biomechanical demands of the knee joint during kicking, sprinting, and direction change associated with soccer, Dunn continued.
Knee protocols include sagittal, coronal, and axial combination of high-resolution proton density fat-saturated and proton density sequences of no greater than 3-mm slice thickness. Dunn underlined that small degenerative tears in the anterior horn of the lateral meniscus may be a common subclinical finding and do not usually raise concerns for the referring clinician. However, larger, potentially displaceable tears of the posterior horns could progress more suddenly, requiring arthroscopic repair or resection and affecting an athlete's playing time.
Images often depict chronic, small, healed tears that are clinically stable. "These demonstrate intermediate signal on T2 or intermediate weighted MR sequences, and should not be misread as active tears," he wrote.
Legal cover
In addition to knowing the best protocols, radiologists must be insured for any potential legal proceedings brought by elite athletes over loss of earnings or negative publicity allegedly stemming from a presigning medical, where results have been unfavorable to the individual and the player subsequently has not been signed. Conversely, with typical football transfer fees ranging from 7 million to 60 million euros, and up to 300 million euros in exceptional cases, clubs may sue doctors if they believe a newly signed player underperforms due to an overlooked injury, according to Dunn.
However, the secrecy of transfers and subsequent time limits between the medical and signing makes researching full clinical history a difficult task, particularly if players may not have provided full details of injury for fear of such disclosure jeopardizing their careers.
Radiologists must use their experience of reporting imaging studies in soccer players to describe imaging abnormalities and their perceived significance, particularly when abnormalities are preclinical and asymptomatic, he continued.
"This ensures an accurate but concise report is produced that does not generate unnecessary alarm that may adversely influence any decision to sign a player," Dunn wrote.
Skillset required
Dr. Gajan Rajeswaran, a musculoskeletal radiologist at the Fortius Clinic in London and sports injury imaging specialist, believes that Dunn's article highlights the particular skillset needed by radiologists working in this niche environment. Competencies should include an ability to communicate with the club medical team and physiotherapists, knowledge of the relevant pathologies, and an ability to manage time and pressure as signings are often arranged and conducted with little notice.
"I think the radiologist has a big role to play here," he said. "We are closely involved with the team doctors on the day of the signing and our opinion directly affects whether or not the player gets signed and also their transfer fee."