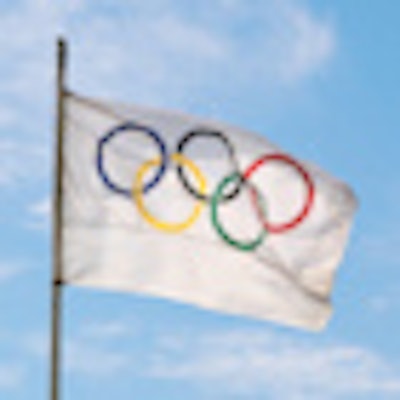 The head of the musculoskeletal (MSK) medical imaging service for this summer's Olympic Games aims to set new standards in the world of sports radiology. Dr. Phil O'Connor, consultant MSK radiologist from Leeds, U.K., says he hopes it will become the benchmark against which future Olympic medical services are compared.
"I just want us to do this really well and hope the quality of the service will be recognized by both patients and the teams," O'Connor noted in an exclusive interview with AuntMinnieEurope.com. "Furthermore, if we can produce detailed reports on what we do and why we do it and how it impacts on management, it will be a legacy to the International Olympic Committee [IOC] for planning future games."
He has every reason to be positive and to aim high. O'Connor has the experience of running the imaging service for the Commonwealth Games in Manchester, U.K., and the World Indoor Athletics in Birmingham, U.K., but he admits the London Olympics will be a great professional challenge for himself and everyone involved in the MSK team.
O'Connor has pulled together a talented and multiskilled team of 41 radiologists, 80 radiographers, and 40 radiographers' assistants, all of whom are volunteers. Most are taking annual leave from their National Health Service roles. The London Organising Committee of the Olympic and Paralympic Games (LOCOG) takes fairness as one of its key values, and no one is getting any preferential treatment when it comes to tickets for events. O'Connor will be seeing the action from inside the walls of the polyclinic; unfortunately, he was unlucky in the ticket ballot.
Planning the MSK medical service is not dissimilar to the logistics of a military exercise. Around 10,000 athletes from 205 countries will participate in the games, with a further 11,000 coaches, officials, and IOC members. The MSK medical service will be available to all these people -- collectively termed the "Olympic Family" -- from mid-July to mid-September. O'Connor will relocate to the Olympic site and start preparing the clinic from June 16, a month before the doors open to patients.
"We have to ensure that our workflow is fully defined because staff change every 10 days, so with this complex mix of staff we need total clarity," he said. "We will also be working with 25 to 30 languages, so the chances of getting the wrong patient are quite high. It's important to have robust systems in place."
Training is also an issue. Radiographers and radiologists will not necessarily be familiar with the systems supplied by official sponsor General Electric, and the staff members will all need to be brought up to speed well ahead of the games. "Radiologists need to be trained in the voice recognition system before the start because we can't have them spending three hours on dictation when they arrive," he said. "They are only doing a 10-day program."
Toward the end of June, O'Connor plans to have a training day when all radiographers, radiologists, and radiographic assistants will descend upon the clinic to run through their different roles in relation to each other in the polyclinic environment.
As for equipment, very few, if any, clinics in the U.K. can match the Olympic MSK service. "We have the best equipment available," he said. "We'll be one of the first units in the country with a wide-bore 3-tesla MRI scanner. GE is spending a lot of money sponsoring the games; it really is a showcase of GE equipment."
With reference to usage figures from the Beijing Games in 2008, O'Connor expects to conduct about 600 MRI examinations in London. He cannot predict how many ultrasound scans he'll need because they did not use MSK ultrasound in Beijing, but he knows from Sydney in 2000 that the figure will be fairly high. The MSK service will be kitted out with two wide-bore MRI units (one 1.5-tesla and one 3-tesla), a 64-slice CT scanner, and four Logic E9 ultrasound units. Most of the work will be with athletes requiring standard MSK treatment.
"There is an A&E [accident and emergency] in the polyclinic for emergencies such as DVTs [deep vein thrombosis], chest pain, and query MIs [myocardial infarction] for which we will also provide an imaging facility," adds O'Connor.
Sonographers will conduct abdominal and pelvic ultrasounds, not the MSK service. "Ideally, we don't want to be too involved with the cross-sectional chest and body imaging because that is a specialized skill." O'Connor explained that they have a service agreement with radiologists from the Homerton and the Royal London hospitals for specialist work.
O'Connor would like to ensure that data generated by the MSK service enters a repository for the benefit of future imaging services at other sports events. He thinks the whole experience will be a great resource. Demographic data on imaging derived at previous games are relatively poor.
"We don't really know how many muscle scans, head scans, or chest x-rays we'll do," said O'Connor. "We just know that they did 450 MR scans in Beijing and the most in one day was 59."
At London 2012, the MSK service has a RIS/PACS to gather data, as well as an Olympic Fellow appointed with a research program set to run.
"This will look at the detailed demographics of imaging use during the Olympics and Paralympics to assess diagnostic and therapeutic impact," he said. "We view this as a legacy if the IOC is fully in agreement with our proposed research activities."
There is also an educational program with a dedicated lecture theater, which will be available for medical professionals in the polyclinic during the games. This aims to provide multidisciplinary teaching with radiology, which will be incorporated into the overall program.
Across development of the entire Olympic site, the Olympic Delivery Authority (ODA) has considered use of the facilities after the games. The polyclinic is destined to be a primary care unit, so as a result, it has been designed in "legacy mode" as a GP surgery. For the purposes of the games, LOCOG overlays the primary care center with Olympic functionality. For example, they don't want any radiology after the games, so the overlay needs to fit in with their design, according to O'Connor.
Development of the MSK facility is now entering its final phase. The "Schmidt" magnets will arrive at the end of April, when they will be loaded into large, relocatable units. They will be ramped up in early May, ready for a site lockdown and a full security sweep of the Olympic Village.
From 16 June to 12 August, O'Connor will run the Olympic MSK services, after which Dr. Rob Campbell, consultant MSK radiologist from the Royal Liverpool University Hospital, U.K., will take over during the Paralympics until 12 September.