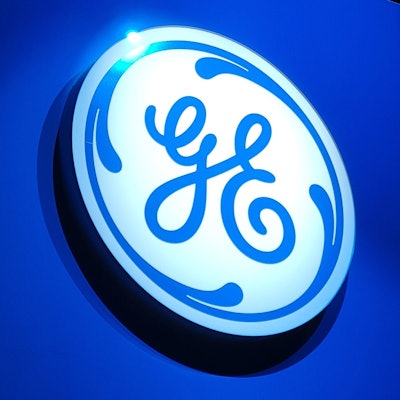 VIENNA - At ECR 2023, GE HealthCare showcased a range of new imaging hardware and software, as well as "immersive experiences." For the first time, it participated in an ECR as an independent public traded company.
CT
The company highlighted its Effortless Workflow concept in the CT section of its booth. Available for its Revolution Ascend scanner, Effortless Workflow utilizes artificial intelligence (AI) techniques to automatically automate nearly every step in existing workflows, according to the vendor. Four new applications have also been added: Spine Auto Views for generating orientated and labeled spine images; Head Auto Views for alignment of head CT images; Spectral Auto Views for automatically processing images with spectral images; and FastStroke with StrokeSENS for immediately processing ischemic stroke cases and emailing results.
GE also showcased its Revolution Apex modular CT platform, as well as its new Revolution Aspire CT scanner. Designed with workflow and throughput in mind, Aspire features an x-ray tube that utilizes a high-heat transfer technology to manage throughput and provide high-voltage stability for consistent imaging, according to the firm.
In addition, Aspire enables a 20% lower breath-hold time and faster scan times, GE said. The vendor also pointed to Aspire's automated personalized scan prescriptions, as well as its reference protocols to ease patient setup. Aspire's imaging chain includes the company's Clarity detector, x-ray tube, high-voltage generators, and optional ASiR reconstruction technique.
GE also updated booth visitors on developments with its work-in-progress photon-counting CT technology. Researchers at the University of Wisconsin-Madison will begin human scanning using the firm's silicon-based approach to photon-counting CT, according to the vendor.
The firm said it has also built a new prototype that includes a larger detector to provide faster scan times and expanded coverage; electrocardiogram-gated cardiac scan capabilities for coronary artery imaging; and faster acquisition speed to reduce the likelihood of blurred images due to motion.
MRI
After making its debut at RSNA 2022, Signa Victor was once again the featured new MR offering for GE at ECR. The 1.5-tesla, 60-cm bore MRI system includes Signa One - a new user interface that enables beginner and less-experienced MR users to be immediately proficient in operating the system, according to the vendor.
Women's Imaging
In women's imaging, GE featured its One-Stop Clinic Experience for Breast, a suite of products that includes its Senographe Pristina digital mammography system; Invenia automated breast ultrasound (ABUS) 2.0 system; Logiq E10 series of ultrasound scanners; SenoBright HD contrast-enhanced mammography technology; Pristina Serena 3D biopsy and SerenaBright contrast-guided biopsy methods; iCAD's ProFound AI software; Cerianna (fluoroestradiol F18) PET radiopharmaceutical for detecting estrogen receptor-positive lesions; and Lunar iDXA bone densitometer with enCore version 18 software.
Enterprise imaging
GE is showcasing an Enterprise Digital offering at ECR that aims to deliver workload and workforce automation for optimizing time management, the company noted.
GE's PACS now features "intelligent" workload management through integration with Q-IT's Helix Radiology Performance Suite, which utilizes predictive analytics to provide enterprise-wide workflow optimization for radiologists, the vendor said.
Interventional
GE has expanded its Allia image-guided therapy platform to include a robotic gantry with a smaller footprint than previous versions. Other features have also been added to enhance user experience, workflow integration, and efficiency, according to the vendor.
A new AI application -- Embo Assist AI -- automatically segments vascular structures to facilitate embolization workflow planning, as well as help clinicians visualize and anticipate the destination of potential injections to support their embolization strategy, GE said. Meanwhile, the company's new Liver Assist Virtual Parenchyma 3D visualization software application can provide AI-based virtual parenchymography.
Allia also now includes AutoRight – an AI-based interventional image chain that automatically adjusts up to seven parameters in real-time to help optimize image quality and dose, the vendor said.
Molecular Imaging
GE directed attention to its Total MI for Theranostics portfolio of molecular imaging offerings and highlighted what it calls its Solid Target Platform for its PET trace cyclotron. The platform is integrated with GE's FastLab 2 New Edition platform and can produce 100 times the amount of gallium-68 compared with a generator for radioisotope production for prostate cancer imaging, according to the vendor.
The company also touted Omni Legend, a new PET/CT detector that allows users to better image short-life tracers, and StarGuide, its 3D SPECT/CT system that now includes capacity for lutetium-177 for prostate cancer and uses GE's Xeleris V workstation with AI tools such as Q.Thera, which segments lesion volumes and organs and quantifies the percent of injected and absorbed dose per organ and lesion, according to the firm. GE's Xeleris V theranostics virtual processing suite of AI tools also includes Q.Volumetrix AI, which provides segmentation and quantitation of SPECT/CT and PET/CT data.
Oncology Imaging
In oncology imaging, GE featured product offerings related to lung cancer screening with low-dose CT, as well as digital PET, ultrasound, and image-guided fluoroscopy systems.
In collaboration with lung imaging software developer Optellum, GE also featured the firm's Virtual Nodule Clinic software for identifying and scoring malignancy likelihood of lung nodules on lung cancer screening exams.
IT
In its booth, GE highlighted workload management software, including Imaging 360 for Operations -- which supports functions such as setting imaging protocols, tracking staff schedules, generating department analytics, and scheduling -- and Quality Care Suite 2.0, a set of AI algorithms for x-ray that deliver images to the most appropriate radiologist readers for every kind of patient, according to the vendor.
Ultrasound
In ultrasound, GE highlighted Logiq Fortis, an ultrasound scanner that can be scaled to fit radiology department needs. The system features GE's Sound Architecture, which consists of its XDclear transducers, its cSound Imageformer, and new speckle reduction imaging technology.
It also showcased its Vivid E95 Ultra Edition 4D cardiovascular ultrasound system, and a mini 4D transesophageal echocardiography (TEE) probe that's ideal for pediatric interventional cardiology procedures, the company said.
X-ray
The company has also renewed focus on x-ray, with a display of its mobile x-ray device, AMX Navigate, for emergency room, inpatient bedside, and intensive care unit imaging. AMX Navigate now features the company's Adventure Series experience for pediatric patients and its Critical Care Suite 2.0, a collection of AI applications to assist with tasks such as endotracheal tube placement.
Also at the booth, the company highlighted its latest generation of Definium 656 HD, an overhead tube suspension system that boasts the highest weight capacity in GE's fixed x-ray portfolio, according to the firm. Designed to be a "personal assistant" to radiologists and technologists, the system leverages automation to reduce workflow burdens, GE said.
Definium 656 HD was also part of an "immersive" emergency department imaging experience featured by GE in its booth.
Surgical imaging
GE promoted enhancements for its OEC portfolio of C-arms that are directed at improving precision and efficiency during trauma, general surgery, interventional, and minimally invasive procedures. For example, OEC 3D Volume Viewer enhances the 19-cm cubic volume assessment process with a Lung Preset tool to accentuate soft tissues in the pulmonary region. It also measures area in the axial, coronal, and sagittal perspectives to assist in measurement of a lesion or object, according to the vendor.
In addition, OEC MiniView C-arm now features advanced image processing as well as a 4K display for imaging of orthopedic extremities, GE said. OEC One CFD and OEC MiniView were also featured at ECR as part of the vendor's "immersive" emergency department experience.