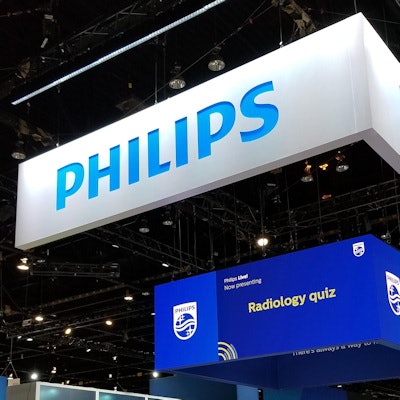 VIENNA - Enhancements in its portfolio of artificial intelligence (AI) and imaging informatics software were among the featured technologies on display for Philips at ECR 2023.
Philips is focused on addressing challenges facing radiology, including staff shortages and burnout, the explosion of healthcare data, disconnected and inefficient workflows, and the increase in volumes and cost pressures, said Bert van Meurs, chief business leader of image-guided therapy and precision diagnostics at Philips.
"Here at ECR you will see how our latest smart connected imaging systems and informatics solutions are connecting teams across radiology, cardiology, oncology, and pathology to turn data into actionable insights to increase diagnostic confidence and improve clinical outcomes, enhancing patient and staff experience, driving operational efficiency, and helping lower the cost of care," van Meurs said in a media briefing at the congress.
Imaging modalities
In CT, Spectral CT 7500 once again took center stage for Philips. As for MR, Philips featured its 3-tesla MR 7700 scanner, as well as its wide-bore 1.5-tesla MR 5300 system.
In ultrasound. Philips brought its Compact 5000 series to ECR for the first time. The portable ultrasound scanner is designed for shared service across specialties including cardiovascular, obstetrics and gynecology, point of care, and general imaging, according to the vendor.
The company's radiography section featured its 7000 C ceiling-mounted digital radiography (DR) system, as well as its "Smart Workflow" concept. Making use of AI algorithms to improve workflow efficiency, the Smart Workflow approach can enable clinicians to see 15 more patients per day and avoid up to 28 retakes per week, according to the vendor.
Radiology informatics
In radiology informatics, Philips is emphasizing software for optimizing workflows and utilizing AI, according to van Meurs.
For example, the company's new Radiology Workflow Orchestrator software uses AI algorithms that automatically deliver imaging studies to the most appropriate available radiologist for that exam. As a result, the application can help to balance caseloads and improve productivity by 50% and decrease average reporting time by 40%, according to Philips.
The company also again demonstrated its Radiology Operations Command Center (ROCC), a vendor-neutral, multisite application that provides support for remote image acquisition capabilities.
In other news, Philips presented the next generation of its Advanced Visualization Workspace at ECR for the first time. First introduced at RSNA 2022, the platform features AI algorithms and workflow support for multiple imaging modalities and specialties, including radiology, cardiology, neurology, and oncology. More than 70 clinical applications are now available on the Advanced Visualization Workspace, Philips said.
In addition, Philips pointed to Ultrasound Collaboration Live, which enables teams to stream video from their ultrasound system to a PC or mobile device for remote, on-demand access to clinical expertise, according to the vendor.
Workflow improvements
The goal is to utilize AI-enhanced imaging offerings to increase diagnostic confidence at every step of the radiology workflow, said Niccolo Stefani, head of clinical strategy in precision diagnosis for Philips.
AI can also be utilized to provide quantitative analysis, such as in the company's Ultimate Ultrasound Solution for Liver Assessment, according to Stefani. In addition, its MR SmartSpeed technology can significantly speed up MRI exams, he said.
At Leiden University Medical Center (LUMC) in the Netherlands, MR SmartSpeed has enabled MR scans to be performed up to three times faster and with 65% higher resolution, said Dr. Mark van Buchem, professor and chairman of radiology at LUMC.
It can also facilitate AI-accelerated quantitative imaging and enable tissue characterization in clinically acceptable time slots, he said.
Dr. Philippe Douek of Lyon University also shared in the media briefing how using Philips' CT Pulmo Auto Results AI-based software to quantify lung lesions on chest CT scans offered value in predicting death and intensive care unit admission in COVID-19 patients.