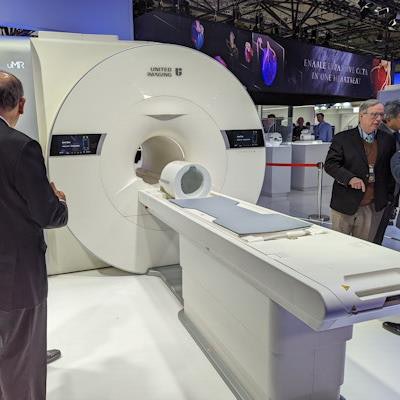 VIENNA - United Imaging is featuring a new 5-tesla whole-body MRI scanner and artificial intelligence (AI) technology in its maiden appearance at the ECR.
The high-field scanner -- called uMR Jupiter 5T -- features an 8-channel volume transmit coil, gradient strength of 120 mT/m, and a peak slew rate of 200 T/m/s. Weighing 15 tons, it also has the same footprint requirements as a 3-tesla scanner, United said.
Jupiter is designed to address some of the challenges associated with higher-field-strength systems, including cost issues and technological factors that have limited utility to only certain applications, according to the vendor.
"We've designed this to be a whole-body imager," said Abram Voorhees, PhD, vice president of magnetic resonance, USA. "We've done that with some very important technologies. Eight-channel transmit systems give us uniform excitation throughout the body; the gradient coil is helping us realize the potential of neuroimaging at ultrahigh field; and we've been able to site this magnet now in a typical 3-tesla bay."
The scanner, which has been installed at four sites around the world, can perform in-vitro, in-vivo, preclinical, and clinical studies, according to the vendor. It also utilizes the vendor's artificial intelligence (AI) for imaging (uAIFI) platform.
AI technologies have been used throughout United's MR portfolio, according to the firm.
"Our focus is on making AI attainable, using it to improve acquisition speeds and make things faster, to ease workflow, and to also even help us employ more modern technology," Voorhees said.
For example, United's DeepRecon image-reconstruction technology can significantly reduce noise from images and reduce scan times by 50%, as well as enable scanning at higher resolution, Voorhees said.
"We're also now employing it in 3D," he said.
The company has also built AI into its compressed sensing platform, yielding up to 80% reduction in scan times.
"Now we're measuring scan times in seconds, as opposed to minutes, which is truly remarkable for MR," Voorhees said.
Other new MR technologies include United's SuperFlex coil for improving patient comfort, as well as the company's EasySense dual-source, phased-array millimeter-wave radar technique for contactless sensing of patients' respiratory motion.
On the hardware side, United is also highlighting its uMR Omega 75-cm ultrawide-bore 3-tesla MRI scanner and its uExplorer total-body PET/CT system in its booth.