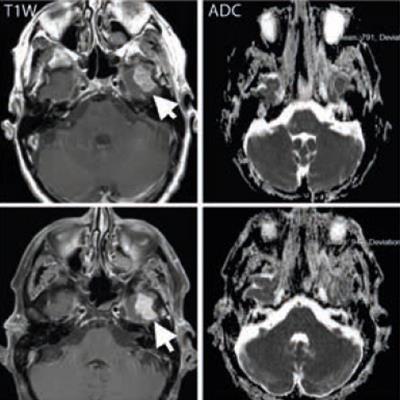 Immunotherapy is a booming field, and recent trials have shed light on the effects of these drugs on cancer. A panel of experts will unveil the latest results and discuss the challenges for imaging in triaging patients and assessing treatment response during the dedicated New Horizons session today at ECR.
Immunotherapy drugs enhance the body's immune system to get rid of cancer cells. The idea is not new but is having a rebirth as new information emerges.
"Immunotherapy deserves to be the focus of a New Horizons session at ECR," according to Dr. Vicky Goh, professor of cancer imaging at King's College London and an honorary consultant radiologist at Guy's and St Thomas' Hospital in London.
"It is very much a hot topic right now but also a challenge for imaging. This is the right time for the imaging community to think about how we can improve the assessment of these agents," said Goh, who will chair the New Horizons session.
These drugs have been trialed in a number of cancers, including renal cell cancer, prostate cancer, colorectal cancer, and melanoma. They have notably improved progression-free survival in patients with advanced disease, e.g., melanoma.
Response to treatment has been assessed mainly with CT. But assessing response remains tricky even on CT, especially since these drugs can cause tumors to grow as a secondary effect, when the body's immune system is being stimulated. "This is because immune and T-cells are being stimulated in the body. So if you just looked at the size change with standard response criteria, i.e., RECIST, this can be misleading," Goh said. For this reason, modified response criteria, e.g., immune-related response criteria (irRC) or iRECIST, have been developed for assessing treatment response using imaging.
These drugs may be effective, but they can also have significant side effects. Having reliable results just a few weeks after treatment onset may help to reduce toxicity and improve patient management, according to Dr. Dow-Mu Koh, a professor in functional cancer imaging and a consultant radiologist at the Royal Marsden Hospital in London.
"The holy grail is that we want to use some other tests and measurements to measure parameters other than size, to determine tumor response," said Koh, who will talk during the session.
MRI has emerged as an interesting modality, as it can provide information on tumor vascularity and cellularity, he explained. "MR may enable earlier identification of treatment effects, as well as detect adverse effects from treatment. Diffusion-weighted imaging can help measure cellularity and dynamic contrast-enhanced MRI enables us to assess vascularity. And then we can also look at the complexity of the tumor environment, i.e., proteins, using magnetization transfer MR," he said.
MR's particular value is that it gives better image definition of the tumor in areas such as the brain, tumors in the extremities of the body, and sarcoma and soft-tissue sarcoma, where CT traditionally has difficulty.
However, the reality is a bit more complicated, especially for new drug development. "A lot of us who are doing this find it to be a very complicated task. It's hard to measure drug effect especially when the effectiveness of a new drug is unknown. In malignant melanoma, we know that immunotherapy drugs work well in a significant proportion of patients, so we may be able to identify an MRI signature of treatment response," Koh said.
PET/MR is still in the experimental phase and there is no clinically validated data yet. However, it could be an interesting option to investigate in immunotherapy, he believes. "PET/MR allows us to combine the specificity of PET tracers with MRI to visualize disease behavior, but there isn't a lot of output at the moment."
Radiomics, which generates data from images that are invisible to the human eye, could be an additional tool in this setting. "I think radiomics will have a place in the future of radiology and would also likely contribute in the realm of immunotherapy. However, at the moment, nobody has a very good solution, although many imaging biomarker trials are in development," Koh said.
Another specific contribution for MRI will be in the surveillance of adverse effects. "You may not identify these complications on CT or PET. MRI with its exquisite soft tissue contrast can demonstrate complications that can affect patient management."
Originally published in ECR Today on 2 March 2018.
Copyright © 2018 European Society of Radiology