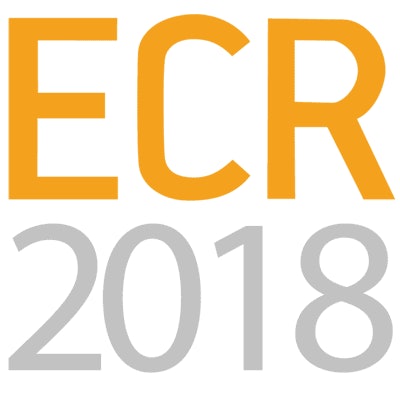 VIENNA - Should radiologists provide imaging results directly to patients? It may be a good idea, as patients who receive their results from radiologists are more likely to want to return to that radiology group for future imaging studies, according to research presented on Wednesday at ECR 2018.
A research team from Paracelsus Medical University in Salzburg, Austria, and Klinik St. Anna in Lucerne, Switzerland, found that direct communication of routine MRI results by radiologists led to higher patient confidence in a radiology service and increased bonding between patients and radiologists.
"We should be concerned about the patients' perspectives and needs, and change our own position or perspective," said presenter Dr. Andreas Gutzeit from Klinik St. Anna.
Patient perspective
Seeking to determine if the direct communication of imaging results would change patient perception of radiologists, the researchers gave 101 patients the opportunity to discuss their imaging results with radiologists following a routine MRI. During this consultation, the radiologist shared the imaging results with the patient and answered any questions. These discussions took an average of three minutes and 47 seconds, with a range of one to 15 minutes, Gutzeit said.
The patients were then given a written questionnaire and asked to complete it anonymously and return it within two weeks. The questionnaire, which assessed stress level about the imaging findings, emotional attachment to the radiological institute, and perception of radiologist competence, was developed with a team of experienced clinical psychologists in accordance with international clinical guidelines and standardized questionnaires, Gutzeit said.
Another group of 101 patients were not offered the consultation with the radiologist, but the patients were also asked to complete the questionnaire and return it within two weeks.
The researchers found that patients who received the radiologist consultations were more likely to be loyal to the radiology service in the future.
Responses to survey after MRI with or without radiologist consultation
No consultation with radiologist
Consultation with radiologist
No. of patients who stated they would no longer like to be treated in this radiological department based on this experience and would inform their general practitioner (GP)/referring physician
1/101 (1%)
0/101 (0%)
No. of patients who stated they only wanted to go to this institute for future radiological investigations and would inform their GP/referring physician
76/101 (75.2%)
94/101 (93.1%)
No. of patients who stated they did not mind which radiological department their GP/referring physician sent them to
24/101 (23.8%)
7/101 (6.9%)
All differences were statistically significant (p = 0.001), according to the researchers.
"With the communication, the bonding to the radiology department was significantly higher," Gutzeit said.
Perception of higher competence
As determined via a five-point scale (1 = lowest competence and 5 = highest competence), patients who had radiologist consultations also ranked the radiology department competence higher than patients who did not receive consultations:
Mean competency score from patients who received radiologist consultations: 4.7 ± 0.5
Mean competency score from patients who did not receive radiologist consultations: 4.1 ± 1.0
The difference was statistically significant (p < 0.001).
In other results, the researchers found no significant difference between the two groups of patients regarding their stress level over the radiological findings. Overall, 76% of patients indicated they were either worried or extremely worried about the imaging findings.
Clinicians didn't mind
In response to a question from the audience, Gutzeit noted that the referring physicians were happy with the radiologist-patient consultations.
"We had a lot of good feedback ... and there was no case of problems with a referring physician," Gutzeit said.