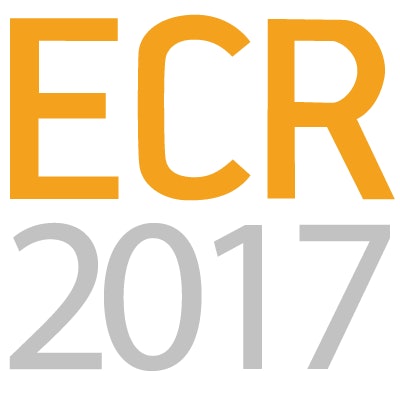 VIENNA - Enthusiasm for digital breast tomosynthesis (DBT) continues to grow, with adherents lauding its increased cancer detection and reduced false-positive rates. Thus far, the technology has been used as an adjunct to digital mammography. But could it replace that modality? Two presentations given during a Wednesday session at ECR 2017 addressed the question.
It's clear that DBT's sensitivity is superior to that of mammography, said session moderator Dr. Sylvia Heywang-Köbrunner of Breast Diagnostics Munich. However, finding more cancers doesn't necessarily translate into reduced mortality rates, since increased detection could be caused by overdetection of "harmless" malignancies, she said.
"We need further data to estimate the technology's effectiveness and its potential for overdiagnosis," she told session attendees. "And there are logistical problems such as longer reading time and how to optimize hanging protocols and comparison with both digital mammography and DBT priors."
In addition, more evidence is needed regarding how tomosynthesis does with interval cancers.
"Several trials show that tomosynthesis has excellent sensitivity and good specificity, but we still don't know how it performs with interval cancers," Heywang-Köbrunner said. "So although tomosynthesis is promising, we need more interval cancer data."
More from Malmö
The need for more interval cancer data for tomosynthesis was on the list of "lessons learned" from the Swedish Malmö Breast Tomosynthesis Screening Trial, which Dr. Kristina Lång, PhD, of Lund University presented during the session.
Lång outlined key takeaways from the study, which recruited 15,000 women between 2010 and 2015. The women were between the ages of 40 and 74 and underwent one-view DBT and two-view digital mammography. Lång and colleagues have published preliminary results that include data from 7,500 women; they are in the process of analyzing data for the total study cohort.
These preliminary results have shown the following:
Tomosynthesis increased breast cancer detection in screening by 43%, from mammography's 6.3 per 1,000 cases to DBT's 8.9 per 1,000. "Tomosynthesis as a standalone modality found all these additional cancers," Lång said.
The additional cancers identified are mainly small and invasive. "Of the 21 additional cancers tomosynthesis found, 17 were invasive, and they were approximately 13 mm," she said. "Forty-eight percent of them were grade 1, and 90% were node-negative, which suggests that there's a trend toward downstaging."
Tomosynthesis increases the recall rate, from mammography's 2.6% to 3.8%, but this increase is commensurate with the increase in cancer detection, according to Lång.
False-positive rates initially increase with tomosynthesis, but they stabilize over time as readers become accustomed to the technology. "There was a clear learning curve," she said. "The tomosynthesis false-positive rate decreased by 50% during the first one and a half years of the trial, to stabilize at a rate of 1.5%."
Tomosynthesis is "one size fits all" when it comes to breast tissue density. "The additional detected cancers tomosynthesis found were across all density categories," she said.
Breast compression can be reduced with DBT. "We found that there was no significant difference in image quality when breast compression was reduced by 50%," Lång said.
One-view tomosynthesis is sufficient with a wide-angle system.
The technology brings workflow challenges, including longer exam times, the need for more data storage, and the logistics of tomosynthesis-guided biopsy -- not to mention reading times that are two to four times longer than with digital mammography, according to Lång. Artificial intelligence technology will probably help with this last issue, she said.
Investigating intervals
All of these findings suggest that tomosynthesis could indeed replace digital mammography for screening. But like Heywang-Köbrunner, Lång emphasized that more data on DBT and interval cancers are needed. Her team plans to work with researchers from the Screening With Tomosynthesis or Standard Mammography (STORM) trial and the Oslo Tomosynthesis Screening Trial (OTST) to tackle the issue.
"We're planning a joint effort with [researchers from the] other prospective, population-based trials to do an individual participant data meta-analysis and evaluate whether tomosynthesis reduces the interval cancer rate," Lång said. "When we have analyzed interval cancer rates, let's use tomosynthesis in screening -- with the aid of artificial intelligence."