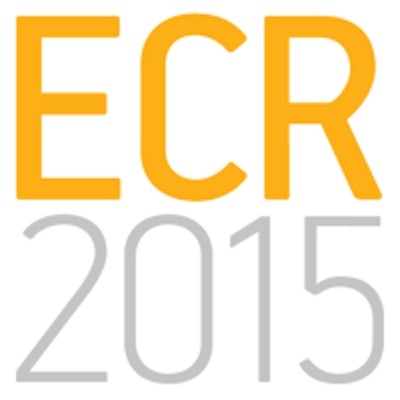 VIENNA - The concept of European-wide clinical decision support for radiology took another step forward at this week's ECR meeting with the official launch of ESR iGuide, a collaboration between the European Society of Radiology (ESR) and U.S. software developer National Decision Support Company (NDSC).
ESR iGuide is designed to provide European referring physicians with guidance on ordering appropriate medical imaging procedures, both to reduce inappropriate utilization as well as radiation dose delivered to patients. The software works within a physician's electronic medical record (EMR) software, popping up when a doctor wants to order an exam and coding studies as green, yellow, or red based on the level of appropriateness.
The software is based on the American College of Radiology (ACR) Appropriateness Criteria, which formed the basis of ACR Select, the product of a collaboration between ACR and NDSC to provide guidance for physicians in the U.S. Rather than reinvent the wheel, ESR chose to build on what ACR and NDSC had developed, and it tested a European version of the software at a hospital in Spain starting in 2013.
Those tests have demonstrated that clinical decision support is a viable concept in Europe and led to this week's iGuide launch, according to Michael Mardini, CEO of NDSC. The need for decision support is acute: ESR estimates that guidelines are only available in 70% of European countries, and they are rarely used in daily practice (perhaps due to the fact that existing guidelines are only available as plain text and are updated just every few years).
Mardini sees the ESR iGuide deal as not only providing ESR with an entrée into decision support, but also helping the society improve its overall capabilities in healthcare IT, as NDSC has done with ACR in terms of helping the U.S. group tackle IT issues such as commerce and integration that it might not otherwise have had the expertise to address.
"Repeating that process in Europe is a good model. This is going to be a really good entrée point to get into that whole IT world," Mardini said. "A lot of the connections that we are going to make through ESR iGuide are going to facilitate the ability to get data out of EMRs that are Europe-based."
ESR and NDSC are approaching the rollout of iGuide in phases, with pilot sites in all the major European countries scheduled to be active in the third quarter. NDSC will be working to interface ESR iGuide with the major EMR in a country or region, and work also needs to be done in terms of localizing the ACR's Appropriateness Criteria to Europe, according to Bob Cooke, vice president of marketing at NDSC.
"Ultimately it's feasible that we would get to a global set of guidelines, but at this moment at least there is collaboration and adaptation of the guidelines for the European environment, which is what's really needed for success," Cooke said.
There are also fundamental differences between the U.S. and Europe in terms of how imaging studies are ordered. Referring physicians tend to hold more power in the U.S. (an order for an exam really is an order), whereas in Europe radiologists play more of a consultative role (an order is really more of a request for an order).
In the end, Mardini sees ESR's enthusiasm about the iGuide project as a positive harbinger of its success.
"The level of involvement from the ESR out of the box is going to be key, and they are very eager to stay out front," he said.