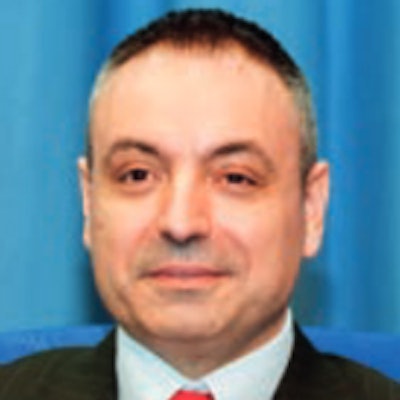 VIENNA - Emergency radiology (ER) in the night shift can be a tricky setting for radiologists of all ages and experience, but it is particularly difficult for beginners in the specialty.
Radiologists carrying out emergency imaging should beware of what they see, according to Kosta Petrović, an assistant professor at the Clinical Center of Vojvodina, Medical Faculty in Novi Sad, Serbia, who shared advice during the Radiology Trainees Forum on Sunday morning. "My suggestion is to first see if the image corresponds to the patient. And do not make decisions without prior consultation," he said.
Before they start in ER, trainees should learn the radiological signs of potential illnesses that their patients may present with.
One of the biggest problems in the ER setting is the lack of time; trainees have no time to consult the Internet or a book for backup. Conversely, signs given as examples in the literature may be very different from what radiologists will see in practice. "Signs are not the same one day or five days after the illness; sometimes the situation changes within hours. It's very important to know what the gap is between the beginning of the illness and the time of the examination," he said.
Sometimes the pathology is there but it is poorly visualized. "For instance, you sometimes can't clearly see early brain ischemia. In this case, just change the window and observe the lesion in different windows," he recommended.
It may be necessary to change the modality as well. "Sometimes, no matter how hard we try, we are technically unable to show what the patient's problem is, so we need to employ another imaging modality," Petrović said. He gave the example of a patient with strong headaches, whose CT report stated possible mild brain edema without any other detectable lesion except thick brain architectonics, whereas the MR scan revealed huge extra axial fluid collections on both sides of the brain. "You have to know that blood in certain cases has a very similar density as brain on CT, and that every change in brain architectonics must be taken very seriously," he said.
Patients may also have multiple diseases at the same time, which may or may not be related to each other.
Petrović also advised the audience to consider infection, which can be become life-threatening if not treated in time. "Don't think that a lesion on the brain is necessarily a tumor or ischemia; it can be infection. This is valid for other parts of the body as well, the neck for instance."
Furthermore, he recommended "thinking outside of the frame" and to image other parts of the body and be aware of technical pitfalls, which can lead to the wrong diagnosis. Radiologists should also call the referring physician if they have a problem with urgent trauma, and when they notice that a tube is misplaced.
"Look at the pathology from different directions. Sometimes the lesion you see is so huge that you don't see or think of checking for other lesions. For instance, always try to find aortic trauma in a case of blunt trauma," he said.
Finally, he advised the audience to make a correct diagnosis fast and not to forget complications of the disease. "Sometimes you don't have time for complicated diagnostic procedures. Sometimes the complexity of injuries is so severe and there is so little time that any delay in your work is unacceptable," he said.
In another talk, Dr. Alain Luciani from Université Paris Est Créteil, Faculté de Médecine in France, explored the potential of hybrid imaging in the detection and characterization of hepatocellular carcinoma, a topic of the future since it is not in practice yet.
"It's actually awkward to think of multiple hybrid imaging when dealing with HCC because detection and characterization of HCC is confined," he began, referring to the use of multiphase imaging with CT or standard MRI, followed by venous or delayed-phase washout.
Hybrid imaging proves useful in the prognosis of the patient rather than just diagnosis. MR/PET or PET/CT may provide very useful information, for instance on tumor aggressiveness and other biological and metabolic phenomena.
Originally published in ECR Today on 10 March 2014.
Copyright © 2014 European Society of Radiology