VIENNA - At Sunday's European Congress of Radiology W.C. Röntgen Honorary Lecture, Dr. Richard Baron used the search for hepatocellular carcinoma (HCC) in cirrhosis as the model of the "Holy Grail" for imaging because it shows why radiologists should be at the forefront of directing patient care and research.
Liver tumor detection has moved beyond anatomic imaging to establishing the correlation between imaging and physiology, according to Baron, chairman of the department of radiology at the University of Chicago. He paid tribute to experts such as Drs. Itai and Matsui, who have helped radiology to acknowledge the central role it plays in patient care and research through understanding tumor, contrast, and blood flow biology.
"They have pushed our frontiers in liver imaging. We have learned that imaging can parallel biologic findings," he noted.
During the past 30 years, guidelines about patient management have changed, particularly for transplant in patients with HCC, making radiologists pivotal determiners of individual outcomes.
"That demands that we know accurately the number of tumors and size of each tumor to the decimal point. If you see a tumor of 3 cm with multiple tumors in the U.S., you won't be transplanted. If it's 2.9 cm, you get ahead of the line," Baron said.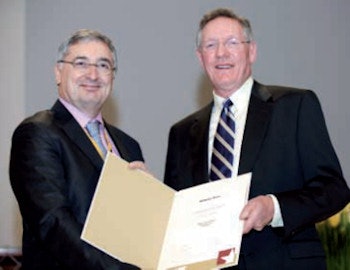 Dr. Richard L. Baron from Chicago receives his Honorary Lecturer diploma from the hands of ECR 2011 Congress President Dr. Yves Menu. Image courtesy of the European Society of Radiology.
He questioned where this trend of steering patient care had led in the past, citing the example of 43 patients transplanted using these criteria. Fifteen patients were diagnosed HCC and accelerated ahead of the others. Following transplantation, five of these were false positives.
"This was a very bad outcome for 10 patients. The five who didn't need the transplant, and the five in the intensive care unit dying of liver failure, who didn't have a cancer, but were denied the transplant because these patients went ahead on the list."
Radiology has come full circle and implements techniques used three decades ago to understand the importance of the equilibrium phase.
"We can see the enhancing nodule of HCC, but many lesions enhance in the liver, including focal nodule hyperplasia and benign lesions, but it's the washout of these vascular lesions in equilibrium phase that is really the key point allowing confident diagnosis of HCC," he said.
Now clinical outcomes are such that authorities insist that patients are not biopsied, instead radiologists should make an imaging diagnosis of HCC. Very accurate specificity and sensitivity in imaging means that there is clear disease management for patients with lesions greater than 10 mm and showing arterial phase hypervascularity and portal venous or equilibrium phase washout, Baron outlined.
"We should continue to focus in narrow areas to improve our ability to seek, characterize, and detect tumors, and we did with liver-specific contrast agents, diffusion-weighted imaging, and some MRI bold oxygen physiology in liver tumors. But the crusade must evolve to have impact, to deliver the value of the Grail to all," he said.
Baron urged all radiologists to develop the skills to understand clinical medicine and its nuances -- and integrate imaging with other as yet unknown critical measures to reflect patient outcome potential. If imaging is still the key means of medical triage, radiologists should define the key remaining components.
In research the radiological community must take the lead in using relevant clinical outcomes as the true gold standard, leading imaging into true multidisciplinary participatory research.
Originally published in ECR Today March 7, 2011.
Copyright © 2011 European Society of Radiology