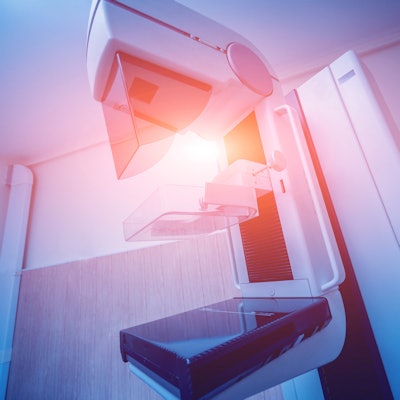 The U.K. Royal College of Radiologists (RCR) has published detailed guidance on screening and symptomatic breast imaging. Its 27-page report includes advice on the imaging of breast implants and the optimum use of ultrasound.
The document reflects advances in the role of imaging, image-guided diagnosis, and intervention that have changed practice over recent years, according to the authors.
"Significant changes have occurred in screening, the investigation of patients with suspected breast disease, and the treatment of patients with breast cancer since the last edition, necessitating a complete revision of the guidance," they stated. "This now includes recommendations for the investigation of patients presenting with breast symptoms."
Key recommendations in the report include the following:
Diagnostic assessment of patients with breast symptoms should be based on "triple assessment" (clinical assessment, imaging, and needle biopsy). The tests used in each case are determined by the symptoms, clinical findings, and age of the patient.
Breast imaging facilities should include digital mammography and high-frequency ultrasound with suitable probes (12 MHz or more). The technical quality of mammography should be equivalent to that in the National Health Service Breast Screening Programme (NHSBSP). Digital breast tomosynthesis (DBT) and contrast-enhanced spectral mammography (CESM) can also be used in the symptomatic setting. Suitably trained members of the multidisciplinary team should carry out imaging exams.
Ultrasound is the first-line modality of choice in women younger than 40 and during pregnancy and lactation. Imaging in pregnant and lactating patients is difficult to interpret, and a lower threshold should be used for clinical and imaging follow-up and/or biopsy.
Mammography is the first-line modality of choice in women older than 40, with the addition of ultrasound as indicated. Mammography should be performed on all patients with confirmed malignancy, irrespective of age. Mammography should be performed on patients ages 35 to 39 with clinically suspicious findings (P4 or P5) and/or ultrasonically suspicious findings (U4 or U5), preferably prior to biopsy.
Mammography must include mediolateral oblique (MLO) and craniocaudal (CC) views of each breast. If a suspicious abnormality is identified on mammography, it may help to perform further mammographic views (magnification, compression, or digital breast tomosynthesis) to help characterize the abnormality.
DBT or CESM may be used as a first-line investigation instead of mammography in women with clinically suspicious findings, especially in younger women who are more likely to have dense breasts, according to local protocols. The level of suspicion for malignancy should be recorded according to the prevailing classification system.
Ultrasound of the axilla should be carried out in all patients when malignancy is suspected or confirmed. If lymph nodes showing abnormal morphology on ultrasound are found, tissue sampling of at least one abnormal node should be performed under ultrasound guidance. There is no agreed upon threshold for cortical thickness; this varies from 2 mm to 4 mm between centers, although most use between 2.3 mm and 3 mm.
"The threshold should be determined locally and audited to achieve a suitable balance between resultant axillary clearances for low-volume disease without prior surgical sentinel lymph node biopsy (with a low-threshold cortical thickness) and excessive numbers of axillary clearances as second operations (with a high-threshold cortical thickness)," the authors wrote. "The imaging report should document the number of abnormal nodes."
Breast implants
In patients with breast implants, imaging is dependent upon whether the clinical features are suggestive of breast cancer or likely to be a benign complication of the breast augmentation.
"Symptoms and signs suggestive of breast cancer should be investigated with conventional triple assessment," they explained. "The patient should be counselled about the small risk of damage to implants from mammographic compression and the reduced sensitivity of mammography. Patients should also be warned about the small risk of implant damage from percutaneous biopsy."
Most benign complications of breast augmentation can be diagnosed specifically with routine imaging. Examples include silicone granulomas and silicone infiltration of lymph nodes that have characteristic ultrasonic appearances.
"It is important to note that the latter does not indicate the presence of implant rupture when found in isolation and so should not prompt further investigation of asymptomatic breasts," the authors continued. "A normal ultrasound has a high negative predictive value for implant rupture, and further investigation to establish implant integrity is not normally required. Similarly, unequivocal signs of rupture on ultrasound do not mandate further imaging."
If the ultrasound findings are equivocal, then dedicated nonenhanced breast implant protocol MRI is advocated. The implant type and any history of prior implants and implant rupture should be included on the request. There is no evidence of a health risk when free silicone is left in the body, and therefore aggressive investigation of breast implants and their benign complications is not indicated.
Breast specialists must be aware of the possibility of breast implant-associated anaplastic large cell lymphoma (BIA-ALCL), a rare complication of implant breast augmentation. Patients who present with a late-onset (greater than one year) persistent peri-implant seroma should be investigated urgently with ultrasound in the first instance, particularly if the implant is of the textured type. Aspirates and capsule tissue samples must be collected and sent for cytological and histopathological analysis, querying the diagnosis of BIA-ALCL on the pathology request.
6 years of change
The document is an update of the previous three editions, published in 1999, 2003, and 2013. Overall, it reflects the significant advances that have occurred in the six years since the previous publication, wrote Dr. Caroline Rubin, vice president of the RCR's Faculty of Clinical Radiology.
"The ongoing changes in the NHS Breast Screening Programme, risk-adapted and higher risk screening, indications for MRI and CT staging as well as postcancer surveillance rationale are highlighted. The radiation risks associated with mammography are included in an appendix and can be used to provide the patient information required under IR(ME)R [Ionising Radiation (Medical Exposure) Regulations] 2017," she noted.
Rubin expressed her gratitude to Dr. Anthony Maxwell and members of the British Society of Breast Radiology for their help in revising the guidance.
You can download a copy of the document free of charge from the RCR website.