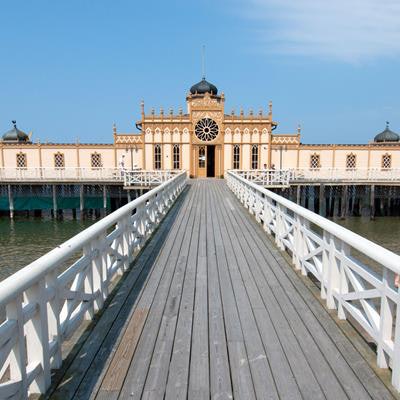 Reports appeared in the Swedish press on Tuesday about a second MRI accident that occurred in the coastal town of Varberg in April. This follows the recent incident at Sunderby Hospital in Luleå, where forensic experts have now completed their site inspection.
The April accident involved a staff member at the Halland hospital in Varberg who was accompanying an anxious patient into the MRI scanner room, according to a report in Aftonbladet, an established Stockholm-based tabloid newspaper with a daily print circulation of 155,000.
The staff member was wearing a metallic ankle band with steel balls, and the person's leg reportedly got stuck to the scanner. There were no injuries, but the machine had to be shut down for more than two weeks. The total cost to the hospital was around 1 million Swedish krona (94,000 euros), stated Aftonbladet, which quoted Magnus Warfvinge, deputy head of x-ray operations in Halland, as its source.
Other media outlets, including Hallands Nyheter, SVT Nyheter, and Teller Report, have also posted information about the April accident.
Varberg has a population of about 30,000 and is located approximately 500 km southwest of Stockholm. The town is known for its historic pier and sandy beaches and rocky terrain, which are typical of the west coast.
Update on Lapland accident
In Luleå, Swedish Lapland, forensic scientists have completed their work at the scene of the accident that took place on 23 October at a mobile MRI unit, Peter Wallerström, an investigator at the police's environmental crime unit, told AuntMinnieEurope.com.
"We needed to check if there was anything wrong and if there was any evidence of criminal activity," he said. "We still need to speak to many people who were involved -- the nurse, the patient, the guards, the witnesses. Things will become much clearer to us in another month or two."
Wallerström believes the MRI unit at Luleå is the country's only mobile scanner, and he said the machine, which was built in the Netherlands, does not appear to be damaged. Aleris owns the equipment and MR trailer and employs the injured specialist nurse.
He declined to give any specific details about the forensic team's work, but they had removed objects that were thought to be of interest. He said that investigators were concentrating their efforts on the garment -- referred to as a "weighted vest" in media reports -- worn by the specialist nurse.
Wallerström said he has never before conducted any similar investigations. His previous investigations included a fatal accident in June 2017 in Abisko, when a 21-year-old fencing contractor was killed by a train.
Radiology's reaction
Meanwhile, more Swedish radiologists have been reacting to the accident in Luleå.
"There are so many MRI units now, so sooner or later one of these almost improbable things will happen," Dr. Torkel Brismar, PhD, an associate professor of radiology at Karolinska University Hospital's Huddinge site in Stockholm, told AuntMinnieEurope.com. "From my experience, the security and risk awareness at MRI departments is very high."
Another Swedish radiologist who did not wish to be named said that from what he has read in the daily newspapers, it sounds like it was simply a case of user error.
One theory is the specialist nurse probably thought the vest contained sand or lead, but in fact it contained fine particles of iron ore, which pinned him to the scanner. It appears no one knew that the proper procedure in such cases is to quench the magnet; instead, the hospital security guard used his knife to cut the nurse free.
It's also unclear at present whether the unit at Sunderby Hospital is, indeed, Sweden's only mobile system. The mobile system was seemingly there because of long waiting lists in the region.
"I am not aware how many there are," said Dr. Hans Ringertz, PhD, professor emeritus at the Karolinska Institute in Stockholm. "It would make sense to use them up in the sparsely populated areas in the north. But Sweden might have decided on stationary units in the same way that Norway has a whole network of CT or MR units along the coastline up north."
Ringertz said he's been told that some Norwegian MRI units perform less than 100 teleradiology exams per year. "It is all a question of using the oil money to provide equal healthcare to everybody, even in very sparsely populated parts of Norway."