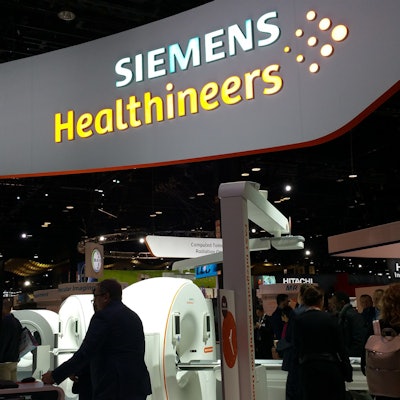 One of the three largest medical imaging vendors -- Siemens Healthineers -- said on 3 March that it is pulling out of all trade shows for the month of March due to concerns over the spread of the coronavirus. The move could put pressure on other vendors to follow suit -- and some already have.
The Siemens announcement came as the European Society of Radiology (ESR) on Tuesday announced that it was postponing the European Congress of Radiology (ECR) -- originally scheduled for 11-15 in March -- to July 2020 due to concerns about the spread of the coronavirus. In a tweet on 3 March, Siemens said that not only did it support the ESR's move but also that it had decided not to participate in any trade shows in March.
We support the decision to postpone #ECR2020 given the current development of the #coronavirus. As we put people and their safety first, we have decided to not participate in any trade shows this March. pic.twitter.com/hmc9wtAtc7

— Siemens Healthineers (@SiemensHealth) March 3, 2020
When asked if the decision included the Healthcare Information and Management Systems Society (HIMSS) meeting, scheduled for 8-13 March in Orlando, Florida, the company confirmed that it did.
"Yes, this includes HIMSS," the company stated on Twitter. A Siemens spokesperson confirmed to AuntMinnie.com that the tweets represented official corporate policy.
Another vendor, Hitachi Medical Systems Europe, also stated on Twitter that it supported the ESR's decision and that it had already planned not to attend ECR 2020 in March.
The decisions by the ESR and Siemens could put pressure on other vendors and conference organizers to postpone or cancel their events. Another smaller meeting, Nvidia's GPU Technology Conference, announced on 1 March that it would be reworking its event scheduled for 22-26 March in favor of an all-online conference.
With respect to HIMSS, a number of IT and networking vendors outside of radiology have announced their decision not to attend, including Amazon, Cisco, Intel, and Salesforce, according to a story on CNBC.
The issue has particular urgency as conference season heats up in the healthcare industry, with numerous meetings scheduled to take place in March and April both in the U.S. and internationally. Complicating factors is that a number of hospitals are prohibiting their staff from traveling as countries prepare for more coronavirus cases.
In addition to HIMSS, meetings taking place in the next two months include shows being organized by the American College of Cardiology (ACC), the American Institute of Ultrasound in Medicine (AIUM), the Society of Interventional Radiology (SIR), and the International Society for Magnetic Resonance in Medicine (ISMRM).
In particular, event organizers want to avoid the example of the American Physical Society, which canceled its meeting scheduled to start in Denver on 2 March. The group announced the show's cancellation the day before it was to start, after many attendees had already boarded flights for the conference.