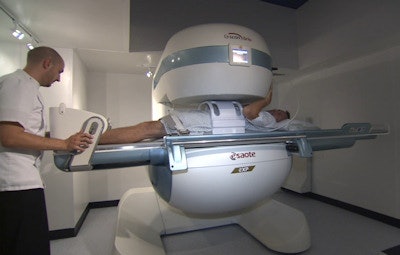 Ultrasound and MRI vendor Esaote has installed its G-Scan Brio MRI scanner at Glan Clwyd Hospital in North Wales.
The facility is the first recipient in the U.K. National Health Service (NHS) of the company's weight-bearing scanner for all musculoskeletal imaging, including neck, shoulder, spine, and extremities.
The G-Scan Brio's open-magnet configuration is designed to help relieve patient anxiety and claustrophobia. It also allows imaging facilities to scan patients in any position, from standing vertically to the traditional supine position.