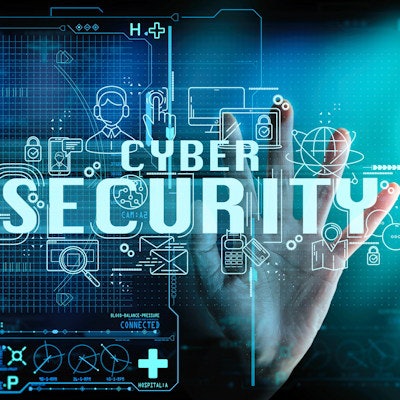 In the wake of the disruption to health services (HSE) in Ireland caused by cyberattacks in May, healthcare providers are looking at how cloud deployment can increase system protection, virtual attendees at the UK Imaging & Oncology (UKIO) Congress heard during the live discussion at a session held on 21 June.
Cybersecurity continues to be a major challenge, noted session chair Archie Mayani, chief product officer for enterprise imaging and cloud solutions at Change Healthcare, who led the discussion on efforts to minimize service disruption from ransomware.
Steve Holloway, principal analyst and director at Signify Research and regular AuntMinnieEurope.com columnist, believes that the consolidating effect within the process of cloud adoption will definitely help de-risk against cyberattack. He noted the exponential rise in cyberattacks and their devastating consequences on healthcare services and pointed to the need to be realistic about the potential backdoors and loopholes in existing applications.
"The process of cloud migration for imaging IT won't necessarily improve cybersecurity straight away but [it] will lay the foundation for improved governance from an IT perspective. Once a significant proportion of the imaging IT stack has been moved to cloud it enables much easier processing in terms of how IT manages security updates at a centralized level," Holloway said.
He pointed out that public cloud providers and industries invest millions of dollars every year in cybersecurity.
"Even for the U.K. National Health Service (NHS), one of the largest health systems on the planet, Google and Amazon are going to be outspending them for cybersecurity. Cloud is going to give you that extra layer, really leveraging all of that spending and research to prevent cyberattacks which means a healthcare provider can be more reactive to threats as they happen," Holloway said.
Multidisciplinary support
Holloway and Mayani also tackled how cloud-based imaging deployment can be woven into, drive, and support multidisciplinary care provision. From a security perspective, the cloud won't necessarily solve all the problems, but it provides a directional shift that can support multidisciplinary team provision over time.
According to Holloway, there are three simple ABCs of cloud support in this context:
A is for Access: Cloud allows multiple users access to information and patient records from multiple locations, which particularly in a post-COVID environment is really important, as not all care providers are going to be in the same place at the same time.
B is for breaking down silos. A lot of patient information used in multidisciplinary care teams is currently siloed in different departmental solutions and legacy applications, he noted. The process of moving towards cloud helps to focus on a strategy around data federation and access to a broader longitudinal, richer, patient record.
C is for curation. He flagged how many health care providers are going wrong with multidisciplinary care team provision from a software point of view, focusing on curation first rather than laying the foundation to enable curation of the right information at the right time for the most appropriate care teams to be put into place.
"Cloud definitely has a role to play there and has a means of streamlining towards multidisciplinary team use of broader clinical data but it has to be alongside a broader governance and care pathway overhaul transition as well," he said.
Cost reductions
Cloud deployment strategy has long-term value and particular benefits in terms of the return on investment, both in the more obvious measurable costs and the less obvious immeasurable costs, according to Holloway. On the measurable side, centralized and consolidated IT administration, security updates, and maintenance -- as well as not having to work with a disparate network of legacy applications -- makes life a lot easier for the IT team in terms of managing the system and in less spending on on-premise data center architecture. Cloud also saves clinical care team resources when collating and using data and information from the patient record.
Over time, the cloud can provide immeasurable benefits as well such as saving in clinical care time and administration time, as well as cyberattack de-risking service provision, which across the scale of a network like the NHS will be substantial, he noted.
"Healthcare providers should factor these [benefits] in for their total cost of ownership considerations when reviewing cloud contracts against on-premise," he noted, confirming that total cost of ownership would go down over time.
Partnership dynamics
In a recent report by Signify, the company underlined how relationships between care providers and vendors were changing, with vendors becoming strategic partners that can help deliver outcomes for the client/NHS collective. But what are some of the characteristics to look at when selecting a partner?
Holloway underlined how healthcare providers are no longer looking for a transaction from a software purchasing perspective, but for a solution partner. In terms of product capability, few vendors have full cloud-native imaging IT capability, but the best vendors already have a clear roadmap for rollout of their cloud-native solutions and are willing to work with healthcare providers to understand how that map will fit with the providers' own strategy of cloud deployment, he noted.
Healthcare providers are also changing their thinking towards service line provision and how a vendor can help them, beyond PACS, to improve running their radiology department, with operational-, care pathway-, care quality-, and patient outcome benefits. In the U.K., the scale of contracts has been growing, with larger more complicated contracts delivered over a longer period of time, and with the vendor embedding themselves within the provider organization to work on issues such as improving care outcomes. Contracts will also start including key performance indicators (KPIs) in their agreements, which if hit, will generate bonus payments for the vendor.
Cloud solution adoption is a long-term journey of transition and migration, and performance should dictate at what rate deployment takes place and to what extent, Holloway noted.
"It's important not to rush this, and lay out what makes sense from a care strategy and IT strategy perspective, without compromising performance," he said.