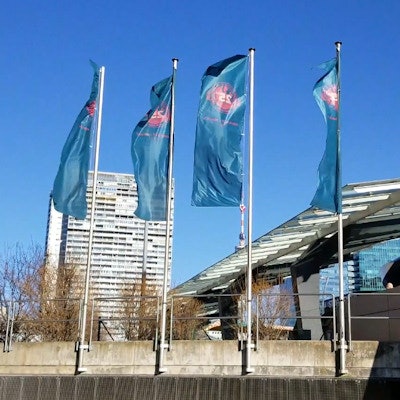 Responding to feedback from this year's summer ECR, the European Society of Radiology (ESR) is moving the congress back to its traditional time slot in March. ECR 2023 will now be held from 1-5 March in Vienna.
Following two years of online-only meetings due to the COVID-19 pandemic, the ECR returned in 2022 as a hybrid event in July in Vienna. The ESR said that although feedback from this year's summer congress was "overwhelmingly positive," its stakeholders also indicated they would prefer that future ECRs be held in March due to the "clash of commitments" that can arise during a summer meeting.
What's more, the society's industry partners also expressed a strong desire to return the annual meeting to its traditional March schedule, according to the society.
ECR 2022 had initially been scheduled for the usual March date, but it was postponed to July due to the omicron wave. In May, the society announced it would also shift its meetings in 2023-2025 to early July, a decision that has now been reversed.
The ESR also reiterated its commitment to hosting ECR as a hybrid event that will be accessible both online and onsite at Austria Center Vienna. The March dates will ensure that an onsite meeting experience remains available to as many attendees as possible in the future, according to the society.
Altogether, there were 10,093 professional attendees at ECR 2022 and 4,987 industry representatives, for a total attendance both online and in-person of 15,080. In comparison, there were 14,776 professional and 981 industry attendees (for a total of 15,757) at the online-only edition of ECR 2021. The last in-person ECR, ECR 2019, saw 14,602 professional attendees and 8,637 industry representatives, for a total attendance of 23,239 attendees.
"At ECR 2023 we will immerse ourselves in the congress slogan, 'The Cycle of Life,' and continue to develop themes of previous congresses, including the 'building bridges' multidisciplinary theme in 2022," said ESR President Dr. Adrian Brady in a statement from the ESR. "The entire ECR 2023 Programme Planning Committee are currently building a unique and exciting scientific and educational programme for the congress, and we cannot wait to welcome attendees back, sooner than expected, for a spectacular meeting next March."
The ESR will begin accepting abstracts for ECR 2023 on 14 September and registration will open on 21 September.