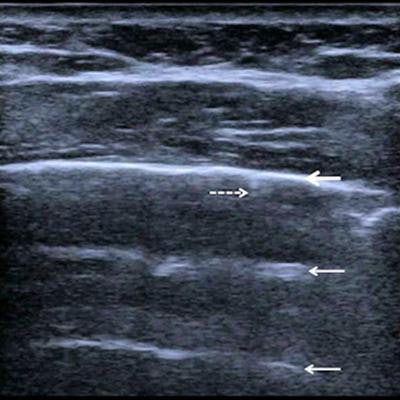 The European Society of Radiology (ESR) has released what it hopes will be the definitive document about the role of lung ultrasound in COVID-19 patients. The new report, posted on 19 June, includes seven clinical images and advice on infection control.
Chest CT is still the gold standard for thoracic evaluation, but lung ultrasonography can show a typical pattern for interstitial pneumonia, according to the authors, who were led by Dr. Dirk-André Clevert, chair of the ESR Ultrasound Subcommittee and associate professor of radiology and section chief for interdisciplinary ultrasound at the University of Munich-Grosshadern Campus, Germany.
"COVID-19 lesions mainly involve the peripheral pulmonary zones, which makes this disease accessible for pulmonary ultrasonography evaluation," they noted in an article published online by Insights into Imaging. "Lung ultrasonography can make a substantial contribution, as it allows direct bedside examination of the lung and pleural space."
Lung ultrasound in experienced hands can give results that are comparable to chest CT and even superior to standard chest radiography for assessment of pneumonia and/or adult respiratory distress syndrome (ARDS), they explained.
In the diagnosis of lung pathologies, ultrasound artefacts arising from the chest wall and pleural surface can provide valuable information and may correlate with the existing lung pathophysiology. There are two major ultrasound artefact patterns that a clinician may detect: "A-lines" and "B-lines," and in rare cases even "C-lines" are visible.
A-lines are reverberation artifacts triggered by oscillating tissue with an air interface, causing the ultrasound waves to be reflected strongly and to reverberate. Among the probe and lung surface, the ultrasound waves bounce back and forth. A-lines are parallel horizontal repetition lines of the pleural surface, appearing deeper on the display screen.
Due to the fact that this is a classic reverberation artefact, the distance from the skin to the pleural surface equals the distance from the pleural line to the first A-line, the first A-line to the second A-line, etc. The A-profile is shaped by intact ("dry") lung parenchyma containing air when it is combined with normal lung sliding. If sliding is absent, it is intensely suggestive of a pneumothorax.
Cleaning and hygiene
Most manufacturers and scientific societies tend to suggest procedures such as immersion of the transducer in a disinfectant solution for one to five minutes, or in a stronger disinfectant solution for at least 30 seconds, the authors explained.
"Unfortunately, these procedures are complex and time-consuming, and therefore acceptance of these suggestions may be limited," they wrote. "Additionally, the immersion of probes in potent disinfectant could damage some probes after as few as 50-100 disinfecting cycles, making such procedures impracticable."
To avoid most of these problems, disinfecting procedures should be of minimal complexity, while preserving patient and probe safety, the authors continued. The use of a thin and disposable nylon/plastic cover for the transducer can minimize these problems, and advanced cleaning solutions must be discussed with the local infection control unit and the vendors supplying the machine in order to avoid any damage to the system and transducer.
Benefits of ultrasound
Lung ultrasonography has substantial use in management of COVID-19 pneumonia in the intensive care unit (ICU), due to its noninvasive assessment and dynamic observation of lung lesions. It can show a typical pattern for interstitial pneumonia; in COVID-19, it is mainly involving the peripheral pulmonary zones, Clevert and colleagues pointed out.
Lung ultrasonography can be used for quick evaluation of the severity of SARS-CoV-2 pneumonia, to track the evolution of disease during follow-up, and to monitor lung recruitment manoeuvres. Additionally, ultrasonography can track the response to prone-position ventilation and the controlling of extracorporeal membrane therapy.
Major advantages are the safety of lung ultrasonography and its repeatability and low cost, they wrote.
"With enlarged use of bedside ultrasonography in the ICU, patients can be protected from needless radiation and therapy delays. CT may be reserved for follow-up in cases where lung ultrasonography is unable to answer the clinical question. The transport of high-risk patients to CT examinations, with its associated hazards, can be decreased by increasing use of lung ultrasonography," they concluded.
You can download a free copy of the eight-page report on the journal's website. In addition to Clevert, the authors were Paul S. Sidhu, Adrian Lim, Caroline Ewertsen, Vladimir Mitkov, Maciej Piskunowicz, Paolo Ricci, Núria Bargallo, and Adrian P. Brady. The paper was supported by the ESR Ultrasound Subcommittee. It was approved by the ESR Executive Council in March 2021.