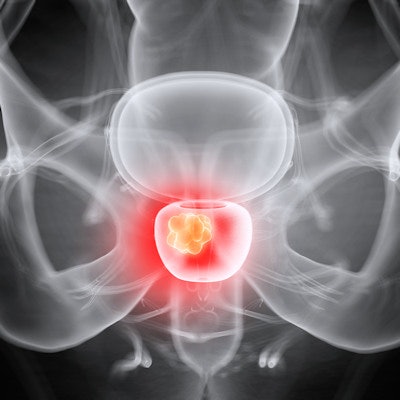 Prostate-specific membrane antigen (PMSA)-PET/CT could become the primary modality approach in confirming the extent of prostate cancer and the most efficient way to direct patients to the most appropriate treatment, according to a study published on 22 March in Lancet.
Australian researchers analyzed some 300 men with biopsy-proven prostate cancer and high-risk features and found that PSMA-PET/CT was 27% more accurate than CT and bone scans in detailing the spread of prostate cancer throughout the body. In addition, the hybrid modality appropriately changed the course of treatment for more than twice as many prostate cancer patents as CT and bone scans combined.
"Around one in three prostate cancer patients will experience a disease relapse after surgery or radiotherapy. This is partly because current medical imaging techniques often fail to detect when the cancer has spread, which means some men are not given the additional treatments they need," said senior author Dr. Declan Murphy, director of genitourinary oncology at the Peter MacCallum Cancer Centre, in a statement. "Our findings suggest PSMA-PET/CT could help identify these men sooner, so they get the most appropriate care."
Currently, CT and bone scans are the primary modalities to investigate cases of suspected prostate cancer, followed by surgery or radiotherapy. Several recent studies have explored PSMA-PET/CT as a diagnostic imaging option and found that the hybrid modality can outperform conventional imaging for detecting recurrent prostate cancer in patients who received radical prostatectomy.
To find out more about the overall efficacy of PSMA-PET/CT, this study included 10 hospitals across Australia. Researchers randomly performed either CT and bone scans (152 patients) or PSMA-PET/CT (148 patients) between March 2017 and November 2018. Men then received scans on the other imaging modality unless the initial exams found more than three sites of metastases (18 patients).
After five patients dropped out of the study, 295 men underwent a second round of imaging at six-month follow-up appointments. These exams were performed to confirm the spread of any tumors and included biopsies and blood tests. Of that total, 87 patients (30%) had pelvic nodal or distant metastatic disease.
In reviewing the images, PSMA-PET/CT had statistically significant higher accuracy and sensitivity for detecting the spread of cancer compared with conventional CT and bone scans (p < 0.0001). The difference in accuracy was due primarily to PSMA-PET/CT's ability to find smaller tumors, the authors noted. Conventional imaging also failed to detect metastases in 29 patients.
PSMA-PET/CT vs. conventional imaging for prostate cancer metastases detection
CT/bone scans
PSMA-PET
p-value
Sensitivity
38%
85%
< 0.0001*
Specificity
91%
98%
NS
Accuracy
65%
92%
< 0.0001*
*Statistically significant difference NS = No statistically significant difference
Most importantly, PSMA-PET/CT findings changed initial treatment plans for 41 (28%) prostate cancer patients, compared with 23 (15%) alterations in care management as a result of CT and bone scans. After the second round of imaging, PSMA-PET/CT changed disease management plans for 39 patients (27%), compared with only seven patients (5%) with CT and bone scans.
To what degree the use of PSMA-PET/CT for prostate cancer evaluation is adopted depends, in part, on economics. The Australian researchers recommended a full financial analysis be conducted by facilities pondering its adoption.
In the meantime, they also endorsed a review of current clinical guidelines and for PSMA PET/CT to replace conventional imaging when possible for men with high-risk prostate cancer.