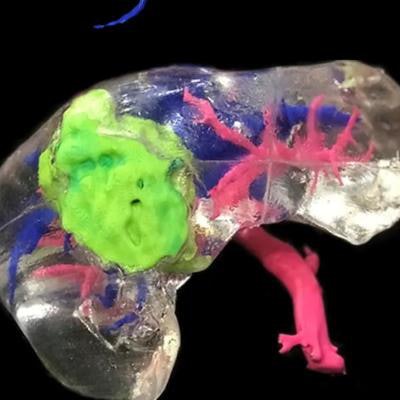 The enhanced visualization of patient-specific liver anatomy provided by 3D-printed models based on CT scans led a team of surgeons and radiologists to alter their approach for around 25% of ultrasound-guided liver resections. European Radiology has posted their findings online.
The researchers from the U.S. and Poland explored the potential benefits of integrating 3D printing technology into presurgical planning for laparoscopic liver resection, a minimally invasive alternative to open surgery for liver malignancies.
Laparoscopic liver resection is often preferred for its association with reduced patient blood loss and morbidity, but the technique offers clinicians a relatively unnatural view of patient anatomy and no tactile sensation during the procedure. In response, several groups have recently begun recommending the use of intraoperative ultrasound to help guide this procedure.
But there remains a need for better preoperative imaging to improve surgical planning for liver resection, according to Dr. Jan Witowski of Jagiellonian University, Dr. David Ballard from Washington University School of Medicine in St. Louis, and colleagues.
To see if 3D printing could help resolve this limitation, the researchers obtained CT scans from 19 patients with liver cancer who were scheduled for laparoscopic liver resection or radiofrequency ablation between April 2017 and December 2018.
The researchers segmented and processed the CT scans using open-source software (3D Slicer) and then created multicolor 3D-printed livers using polylactic acid filaments and a 3D printer (Ultimaker 2+, Ultimaker). The entire production sequence, from imaging to silicone casting, took roughly five days (Eur Radiol, November 26, 2019).
Examining the patient-specific models presented the surgical planning team, which included several surgeons and radiologists, with a precise 3D view of the liver tumors in relation to liver anatomy, according to the researchers. During presurgical planning, examining the models helped convince the team to change its previously established surgical approach (based on CT scans alone) for 26.3% of the cases. They considered all but one of the altered approaches to be a major change.
The 3D-printed models helped the surgical team to determine not only the ideal resection line but also the extent to which liver tissue needed to be resected, the group noted. Despite not revealing any new malignancies, the 3D-printed models changed the surgical plan in more than a quarter of the cases, likely due to the improved understanding they offered concerning the spatial relationships between liver vasculature and lesions.
"3D-printed liver models are feasible in planning laparoscopic liver resections and can help in establishing surgical plan in major and complex resections, occasionally changing surgical approach by more than one segment," Witowski, Ballard, and colleagues wrote. "This may be especially promising in situations where intraoperative ultrasound is not available."
Advanced 3D visualization techniques such as realistic 3D surface rendering, augmented and virtual reality, and 3D printing "need to be adopted to new surgical techniques ... and synergized with new imaging methods in surgery," they concluded.