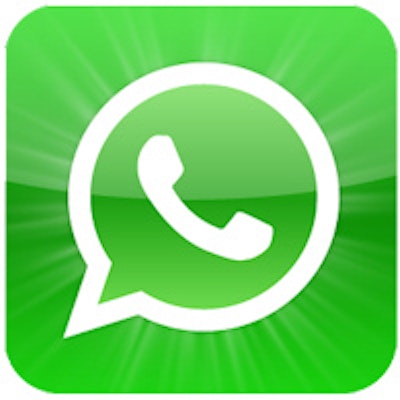 WhatsApp Messenger is one of the most popular instant messaging apps for smartphones today. But it's not just for chatting or sharing videos and photos: It can also be used as a diagnostic tool for viewing certain types of CT scans and radiographs, according to a study from Brazil.
The research group, led by Dr. Vincenzo Giordano of Hospital Municipal Miguel Couto in Rio de Janeiro, reported strong interobserver and intraobserver agreement by orthopedic surgeons who were using WhatsApp to evaluate and classify tibial plateau fractures.
"We believe that its use in the emergency department for initial documentation and transmission of images to more experienced consultants that are out of the hospital at that time is a safe procedure," Giordano and colleagues wrote in the International Journal of Medical Informatics (February 2015, Vol. 84:2, pp. 141-148).
A common fracture
Orthopedic surgeons at the Rio hospital's orthopedic trauma department began using their smartphones to take pictures of hard-copy radiographs and CT images from trauma cases and send them to colleagues for consultation using WhatsApp. Unlike the multimedia messaging service (MMS) approach that sends compressed images, WhatsApp allows for sharing of full-resolution images.
The Brazilian team began to investigate WhatsApp as a tool for medical evaluation of images after reading a paper published in Foot & Ankle International (February 2013, Vol. 34:2, pp. 228-233) that assessed the utility of using a mobile phone for interpreting ankle radiographs, Giordano, an orthopedic trauma surgeon, told AuntMinnie.com.
They decided to study WhatsApp's usefulness for evaluating tibial plateau fractures, one of the most prevalent injuries seen at their institution.
They selected radiographs and CT images from 13 patients who had been treated for tibial plateau fractures at their hospital between June 2012 and July 2013. The fractures were then independently classified by three consultants using the Schatzker and Luo classification systems; unanimous agreement by the consultants served as the gold standard for the study.
Using an Apple iPhone 5, the hard-copy images were photographed at a distance of 20 cm using the luminosity of a negatoscope. Each case included four knee trauma series x-rays (anteroposterior, lateral, and 45° oblique views) and two axial CT sections (5 mm and 10 mm from the articular surface).
Giordano and colleagues then asked six orthopedic surgeons, each with more than 10 years of experience in lower limb trauma and reconstruction, to view the anonymized cases using WhatsApp on their iPhone; five had an iPhone 5, while one had an iPhone 4S.
On two separate occasions, the orthopedic surgeons evaluated the images for each case and provided their determination of the injury pattern (shear, depression, or shear and depression), injury type (unicondylar lateral, unicondylar medial, or bicondylar), fragment displacement direction (lateral, medial, or posterior), and fracture classification, according to both the Schatzker and Luo classification systems. The researchers also asked the surgeons if the inclusion of the CT images changed their injury classification.
Assessment for each case was limited to five minutes, and the first three minutes were devoted to assessing only the radiographs; the surgeons could review all of the images for the final two minutes. After the first image review session, the cases and photos were deleted from each of the phones. The surgeons then received the cases again via WhatsApp 15 days later.
High level of agreement
For both review sessions, inter- and intraobserver agreement ranged from excellent to perfect (0.75 < kappa value < 1.0) for all six clinical questions asked about each of the 13 cases. Correlation was perfect (kappa value = 1.0) when the surgeons were asked if the CT images changed the final x-ray classification.
In other results, the authors did not find a statistically significant difference between the surgeons' responses and the gold standard in the study (p > 0.05). However, they believe the significant experience of the participating surgeons contributed to the high level of inter- and intraobserver agreement.
"Perhaps younger surgeons or nonspecialist observers would be unable to agree on features that might determine diagnosis and potentially influence the decision to operate," the team wrote.
In addition to demonstrating that WhatsApp is a very good tool for this particular injury, the findings show promise for its use in other imaging applications, Giordano said.
"Why not think it is also useful for many other musculoskeletal lesions?" he said. "I think many other medical professionals can use the app, as radiologists, craniomaxillofacial surgeons, and others may benefit from fast image visualization in order to define the therapeutic protocol."
Giordano noted that patient privacy is not violated by the use of WhatsApp, as only the staff and residents from their department can see and discuss the images.
The study results have also made the researchers much more confident in their use of WhatsApp as a tool for medical communication, including image evaluation, Giordano said.
"We strongly suggest that other groups of orthopedic surgeons try to use it to [form] their own impressions," he said.