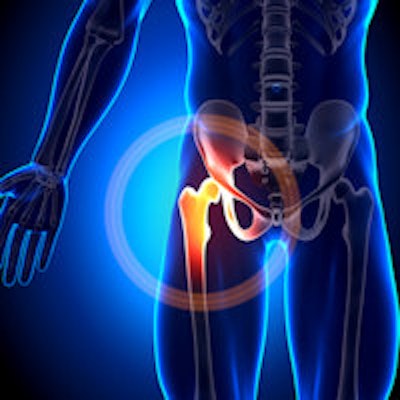 Researchers from the Basque Country in Northern Spain received a top prize for their exhibit on hip arthroplasty on Wednesday at the RSNA 2014 meeting in Chicago. The four other European recipients of the prestigious Magna Cum Laude poster award were from France (Lille and Paris) and the U.K. (both from London).
MRI is a useful technique to assess most complications of hip arthroplasties, noted Dr. Oscar Casado and colleagues from the MRI department at Osatek SA Hospital de Galdakao. They expect an increase in the demand for MRI studies to study complications.
"Knowledge of tips to reduce susceptibility artifacts caused by metallic components allows for a better assessment of complications associated with hip arthroplasties," they stated in their award-winning e-poster. "Intravenous gadolinium injection can be useful for the diagnosis of acetabular and stem femoral osteolysis and in the evaluation of infection and fistulae, and it is mandatory to correctly assess psoas tendinopathy."
Factors affecting susceptibility in prostheses: Tips to reduce susceptibility artifacts caused by metallic components
Reduced artifact
Increased artifact
Main magnetic field (Bo)
< Bo use 1.5-tesla or less
> Bo 3-tesla increases artifacts x 2
Spin-echo and GRE sequences
Fast-spin echo sequences
Spin-echo sequences, GRE sequences
Fat suppression
Fast-STIR sequence
Proton density or T2 fat-saturated sequences
Gadolinium
Use nonfat-saturated T1-weighted images
Do not use fat-saturated T1-weighted images
Source: Dr. Oscar L. Casado, MRI Department, Osatek SA Hospital de Galdakao, Basque Country, Spain, presented at RSNA 2014.
Hip arthroplasty is performed in increasing numbers of patients with end-stage hip degenerative joint disease, and a proportional increase in symptomatic hips after arthroplasty is expected in the future, according to Casado et al. Resurgence in the use of metal-on-metal hip prostheses offers the potential of low implant wear and prolonged implant survival compared with conventional metal-on-polyethylene hip prostheses, but periprosthetic fluid collections and loosening metal-on-metal hip prostheses and other traditional complications such as infection and psoas impingement remain.
They recommend performing MRI studies on 1.5-tesla units (or less) and using fast spin-echo (FSE) sequences. Fast short-tau inversion recovery (STIR) sequences are strongly recommended, and whenever intravenous gadolinium injection is administered, nonfat-saturated high-resolution 2D or 3D T1-weighted sequences before and after contrast injection are preferred. They recommend selecting the frequency-encoding gradient in the same direction as the stem of the femoral component of the arthroplasty to correctly assess osteolysis of the femoral stem.
Often metallic artifacts are seen when MR studies of hip arthroplasty are performed in a 3-tesla magnet and no metal artifact reduction techniques are performed, so a clinically useful MRI study of the hip arthroplasty with 3-tesla may be impaired, the authors explained.
"To perform MRI of hip arthroplasty, an increase of the bandwidth receiver, increase of spatial resolution, and also of the number of excitations is strongly recommended," they noted. "Newly designed sequences such as MAVRIC [multiacquisition variable-resonance image combination] or SEMAC [Slice Encoding for Metal Artifact Correction] reduce susceptibility artifacts and distortions related to metallic hardware. However these sequences provide less resolution and require longer acquisition times for the same resolution than standard FSE intermediate sequences."
STIR, MAVRIC, or SEMAC sequences can be particularly useful because they improve bone marrow edema detection related to standard FSE sequences, Casado et al wrote.
On MRI, wear-induced synovitis may appear as intermediate to low signal debris in the joint, as well as dark or dirty fluid signal content with no contrast enhancement. Expansion of the pseudocapsule by debris or fluid in the joint may also be seen. When the intra-articular pressure increases, decompression of debris and fluid into the iliopsoas and subiliacus bursae may appear, and sequences such as MAVRIC can improve the depiction of synovitis around a hip prosthesis, they stated.
Adverse local soft-tissue reactions, pseudotumors, and adverse reactions to metal debris appear on MRI as periprosthetic soft-tissue collections filled with synovial fluid and solid synovial debris. Pseudocapsular dehiscence is most commonly seen in the lateral/posterolateral aspect of the joint, allowing for decompression in the greater peritrochanteric area or into the greater trochanteric bursa, although they can also decompress to the iliopsoas bursa. The MRI signs most suggestive of aseptic lymphocytic vasculitis-associated lesions are high volumes of synovitis within the collection, extracapsular disease, and intramuscular edema, the authors wrote.
Coping with infection
Reported infection rates are currently 1% to 2% for primary total hip arthroplasties, and are higher after total hip revisions. False-negative and false-positive culture results have been reported in more than 10% of joint fluid aspirates. X-rays are usually normal and a distinction between septic and aseptic loosening often cannot be made on a single radiograph.
"MRI is helpful for the diagnosis of infection by depicting the findings associated to extracapsular spread of the infection such as soft-tissue extracapsular edema, abscesses, and draining sinus," they wrote. "Bone destruction with osteomyelitis and bone sinus tract can also be found. However, image-guided joint aspiration is still required for a definitive diagnosis."
Psoas tendon inflammation is a typical cause of pain after total hip replacement and it appears with groin pain. The prevalence is up to 4.3%. CT is preferred for acetabular component impingement, while MRI can demonstrate iliopsoas bursitis, psoas tendinopathy, and adjacent local synovitis in the hip joint. Use of intravenous contrast injection is mandatory to depict psoas tendinopathy and local synovitis after total hip arthroplasty. Psoas tendon tears with muscle atrophy are an uncommon complication, and MRI can easily depict these findings, the authors pointed out.
Heterotopic ossification is usually associated with impingement on adjacent nerves or tendons (abductor or iliopsoas tendons), or is due to the limited range of motion of the hip joint. MRI can demonstrate the extent of the ossification process and the relationship with or impingement on adjacent soft tissues, and it can be helpful in planning subsequent surgery, according to Casado and colleagues. Mature heterotopic ossification appears with fatty bone marrow signal intensity with a thin hypointense cortex or cortical inclusions.
Immature heterotopic bone appears isointense to muscle on T1 and hyperintense on STIR images. Following gadolinium contrast injection, peripheral rim enhancement may appear in immature heterotopic bone and can easily be mistaken for infection, they concluded.
Full list of prize winners
The other 28 Magna Cum Laude award winners were as follows:
The sternal-rib complex: The fourth column of the thoracic spine, Dr. Bradley J. Carra, Brooke Army Medical Center, San Antonio, TX, U.S.
Missed breast cancer: Can you detect it? Dr. A Wadhwa, Medical College of Wisconsin, Milwaukee, WI, U.S.
Breast MRI for equivocal mammographic findings: Help or hindrance? Dr. Catherine S. Giess, Brigham and Women's Hospital, Harvard Medical School, Boston, MA, U.S.
Radiological and histopathological correlations of thymic epithelial tumors, Dr. Takahiko Nakazono, Faculty of Medicine, Saga University, Saga, Japan
Progression and recurrence of lung cancer: Established patterns and new concepts, Dr. Charlie Sayer, St. George's Hospital National Health Service (NHS) Trust, London, U.K.
Imaging of craniocervical junction traumatic injuries: What the clinician needs to know, Dr. Roy Riascos, University of Texas Health Science Center, Houston, TX, U.S.
Imaging of traumatic peripheral nerve injuries, Dr. Yoshimi Endo, Hospital for special surgery, New York City, NY, U.S.
Traumatic finger injuries: What the orthopedic surgeon wants to know, Dr. Ged G. Wieschhoff, Brigham and Women's Hospital, Harvard Medical School, Boston, MA, U.S.
Biliary diseases with pancreatic counterparts: Evolving concepts in pathogenesis & cross-sectional imaging findings, Dr. Venkat Katabathina, University of Texas HSC at San Antonio, TX, U.S.
Beyond TME: Determining surgical planes for locally advanced rectal cancer using MRI, Dr Venus Hedayati, Royal Marsden Hospital NHS Trust, London, U.K.
Functional MRI of diffuse liver disease, Dr. Michael Stevenson, Mayo Clinic, Rochester, MN, U.S.
Liver infections: Multimodality imaging to narrow differential diagnosis and avoid pitfalls in interpretation, Dr. Pablo Bächler, School of Medicine, Pontificia Universidad Católica de Chile, Santiago, Chile
It's all relative! Vascular invasion in HCC: Current management and future directions, Dr. Gregor Dunham, University of Washington, Seattle, WA, U.S.
Quality improvement with discrete event simulation (DES): A primer for radiologists, Dr. Michael Booker, Keck Medical Center, University of Southern California, Los Angeles, CA, U.S.
It's alive!!! How to use a simple tissue phantom to teach liver biopsy, abscess drainage, and percutaneous cholecystostomy procedures, Dr. Hannah Perry, Beth Israel Deaconess Medical Center, Harvard Medical School, Boston, MA, U.S.
Imaging findings in patients with natalizumab-related progressive multifocal leukoencephalopathy, J Hodel, Hôpital Roger Salengro, Lille, France
Sensori-motor functional brain anatomy quiz: Test your knowledge, Dr. John L Ulmer Jr., Medical College of Wisconsin, Milwaukee, WI, U.S.
Dynamic MR Imaging of the temporomandibular joint: Understanding the joint mechanics, Dr. Reni Biswas, University of California, San Diego, CA, U.S.
CT of postoperative orbital wall following trauma: Review of normal appearances and common complications, Michael Reiter, department of radiology, San Antonio, TX, U.S.
Ultrasound of the spine in newborns: A great screening tool for assessment of anatomy, normal variants, and congenital spinal anomalies, Dr. Carlos Torres, The Ottawa Hospital -- University of Ottawa, Ottawa, Canada
First trimester pregnancy ultrasound: Normal and abnormal ultrasound findings, Dr. M. Reza Hayeri, Mercy Fitzgerald Hospital, Derby, PA, U.S.
Fetal imaging of congenital lung malformations with pathologic correlation: New concepts, Dr. Christopher I. Cassady, Texas Children's Fetal Center, Houston, TX, U.S.
Female perineal masses: Spectrum of imaging findings, Dr. Guillaume Ssi-Yan-Kai, Antoine Béclère Hospital, Paris, France
Different faces of Langerhans cell histiocytosis (LCH): What the radiologist needs to know, Dr. Monda L. Shehata, Mercy Catholic Medical Center, Darby, PA, U.S.
"Children's Twelve:" Cranial nerves on pediatric brain MRI, Dr. Jae-Yeon Hwang, Hye-Kyung Yoon, Pusan National University Yangsan Hospital, Yangsan, South Korea
Review manifestations of hematologic disorders: A pictorial review, Dr. Andrei S. Purysko, Hospital do Coração and TeleImagem, São Paulo, Brazil
Vascular complications of pancreaticoduodenectomy (the whipple procedure): Diagnosis and treatment, Dr. Steven L. Hsu, University of Texas Southwestern Medical Center, Dallas, TX, U.S.
Imaging the swollen arm with dialysis access: It's not just DVT, Dr. Shilpa N. Reddy, Einstein Medical Center, Philadelphia, PA, U.S.