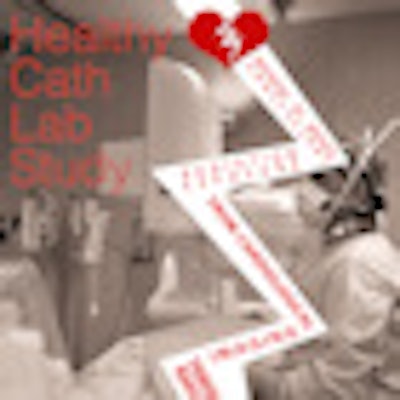 Chronic exposure to low-dose radiation -- the equivalent of 250 chest x-rays per year for the professional -- may have clear biological and biochemical effects that represent a cellular protective response to harmful radiation, according to a paper published in this week's European Heart Journal that examined the impact of exposure on interventional cardiologists.
Lead researcher Dr. Gian Luigi Russo, a senior research scientist at Rome's Institute of Food Science, emphasized the results supported advice that operators should strictly observe radioprotective measures, and where possible, increase them. "Our study demonstrates that biochemical changes occur at the cellular level, but it still remains to be determined whether these changes are adaptive (hormesis), beneficial modifications, or harbingers of clinically relevant pathologies," he told AuntMinnieEurope.com.
Interventional cardiologists have an annual exposure two to three times higher than that of radiologists, and this exposure has increased steadily in the past 20 years, he noted. They represent, today, perhaps one of the best possible human models to assess the biological effects of chronic exposure to low-dose radiation, he stated.
Ten healthy interventional cardiologists exposed to low-dose radiation were compared with age- and gender-matched controls (other hospital workers) who had not been exposed. The study subjects received a median exposure of 4 mSv radiation per year, as measured by the film badge beneath their lead apron. Exposed subjects frequently performed cardiac operations using x-ray-guided catheters. The researchers tested levels of glutathione, an antioxidant that protects against cell damage from reactive oxygen species (ROS); hydrogen peroxide, which indicates the amount of oxidative stress caused by the ROS; and caspase-3, an enzyme in lymphocytes that is indicative of programmed cell death of potentially cancerous cells.
The exposed group showed a threefold increase in hydrogen peroxide compared with those unexposed (6.51 ± 1.55 versus 2.21 ± 1.03 mM H2O2 Eq); a 1.7-fold increase in glutathione (20.61 ± 2.16 versus 12.37 ± 1.22 mM). Exposed subjects also showed higher values of caspase-3 activity, both at baseline and notably following high-dose radiation challenge.
Russo suggested the work may represent the starting hypothesis for a new study to be performed with a different group of professional workers exposed to radiation. He added that a further study was under way in a larger population of cardiologists. "A study, led by Dr. Eugenio Picano, is in progress at the Institute of Clinical Physiology, Pisa in Italy. It is larger and targets different end points, such as cancer and noncancer effects of low-dose radiation exposure," he said.
These findings imply a need for greater vigilance to reduce lifetime exposure for those working with radiation sources, according to Dr. Michael Rees, a practicing interventional cardiologist and professor of cardiovascular studies at Bangor University in the U.K.
"It might mean we need further monitoring and possibly advice on the amount of time in a week that someone should be exposed to radiation. Also, greater precautions are needed, in particular situations such as long procedures," commented Rees, who is president of the European Society of Cardiac Radiology. "It all comes back to finding safer ways of treating patients and exposure of staff, such as performing procedures more quickly at lower total doses. Unfortunately, many interventional procedures have now become more complex and require longer exposure rather than less."
Dr. Tommaso Gori, a practicing cardiologist at the University Medical Center of Mainz in Germany, wrote an editorial to accompany the paper. He drew attention to the concept of "preconditioning," whereby low doses might be beneficial and stimulate repair mechanisms, as was seen in Russo's findings. It was similar to preconditioning seen with ischemia, he said.
"Similarly, these data show that a small amount of radiation paradoxically has protective effects, a phenomenon called hormesis. It would be a very far shot to say whether this can be used therapeutically, so for the moment we have to stick to the rule that radiation is harmful," Gori said.