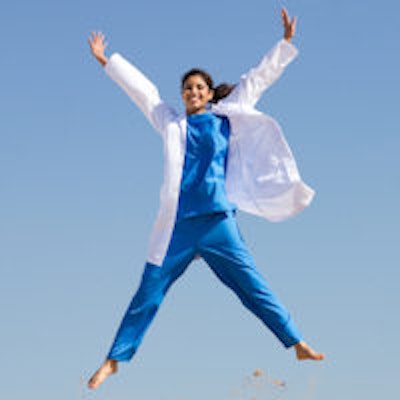 More attention must be given to burnout and fatigue among radiography and physics staff, and it's essential to identify new ways to enhance the professional resilience of workers and enable them to cope better with ever-growing workloads, a U.K. job satisfaction survey has found.
Professional development supported and informed by a Performance Development Review is a simple and effective means of enhancing the satisfaction of staff; and individuals have a responsibility to themselves and fellow workers because their behavior and attitudes influence job satisfaction, according to Daniel Hutton, a treatment delivery advanced practitioner at Clatterbridge Cancer Centre in Bebington, U.K., and colleagues. They have presented their results and analysis in an article-in-press published online by the British Journal of Radiology on 2 May.
The quantitative survey conducted in 2012 assessed job satisfaction, attitudes to incident reporting, stress and burnout, opportunities for professional development, workload, and staff retention and turnover. Clinical oncologists and radiologists were not included because the Royal College of Radiologists (RCR) had recently assessed their members' satisfaction. All questions were taken from validated instruments or adapted from the U.K. National Health Service (NHS) Staff Survey.
The survey attracted a total of 658 completed responses from the public and private sectors, and this equated to a 16% response rate. More than one-third (36%) of respondents was classified as being satisfied with their jobs, while 11% of the sample was dissatisfied and the remaining 53% were ambivalent. A significant proportion of clinical staff (37.5%) reported high emotional exhaustion. "Presenteeism" -- the practice of being present at one's place of work for more hours than is required, especially as a manifestation of insecurity about one's job -- was an issue, and 42.4% of the sample attended work despite feeling unable to fulfill their role.
Nearly 80% of staff reported an increase in the intensity and pace of work during the past 12 months, and another 17% said the intensity and pace was about the same. They attributed the greater workload to staff levels, lack of resources and administrative support, and various other factors. More than 60% of respondents said they thought workload often prevented them from undertaking learning and development opportunities.
"Anecdotally, staff are becoming less inclined to want to commit personal time to development as they are fatigued by their work commitments. This is despite a realization that each professional has a responsibility to their competence through continual professional development in order to retain their eligibility for registration to practice," the authors noted.
Pace of work and fatigue were highlighted as potential contributing factors to radiation incidents. In the future, supporting staff and preventing burnout can have a positive effect on absenteeism and team performance and will reduce the prevalence and severity of incidents, they added.
Workforce planning reports have identified a staff shortfall that jeopardizes the ability of U.K. radiotherapy centers to meet the future demand, and against this background, obtaining an understanding of the work experiences of radiotherapy professionals can help to support the development of strategies to increase job satisfaction, productivity, and effectiveness, stated Hutton et al.
A challenging and exciting period lies ahead for radiotherapy in the U.K., but increased provision and appropriate interventions are needed to achieve the aim of delivering world-class care, and retaining and developing an adequately resourced, skilled, and committed workforce will be a key factor in future success, they concluded.