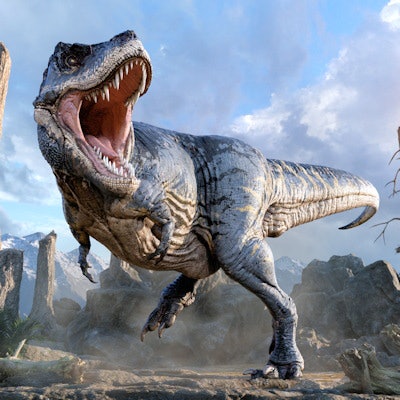 It's essential not to be afraid of the second digital revolution in healthcare, where artificial intelligence (AI) and machine learning have come to dominate: Radiologists will not disappear and become extinct, as happened with the dinosaurs. That's the view of Prof. Andrea Laghi from Rome.
"We need to change our mentality," he told attendees at last month's ECR. "We all -- cardiologists, radiologists, neurologists -- need big data from different hospitals and we need to create a national network to share this data. Big projects cannot rely on data from a single center, or even regional networks, but national networks."
Laghi, who is president of the European Society of Gastrointestinal and Abdominal Radiology, underlined the importance of integrating AI into daily practice to improve the quality of diagnoses and reports, based on the move from emotional- to data-driven decisions.
Big data and digital transformation also affect management and ensure positive departmental change, he continued. For example, a business analytics system can support management decisions by providing metrics and graphical dashboards to improve efficiency in real-time. Thanks to this, his own hospital -- ​​Sant'Andrea University Hospital -- was the only one in the region that was able to increase the numbers of CT outpatient exams during the pandemic, as the department was able to use the system's data to modify workflow, he noted.
Time saved by conferring time-consuming tasks to AI will be better spent on communication with patients and colleagues, but there remains a risk that in a for-profit context the time saved will be used to move more patients through the system rather than allowing practitioners to spend more time with them, Laghi added.
"Here the solution will be for skilled, empowered radiologists to sit down with IT professionals and policymakers, driving the digital revolution," he noted at the ECR session, "Meet the Professors 3: why become a radiologist?" held on 15 July.
Transformation of radiology
During the first digital revolution of PACS, "the dino-radiologists" resisted change and tried to continue using paper-based technology, but they could not turn back the tide, according to Laghi.
If your idea of being a radiologist is to sit alone in a dark reading room, plowing through hundreds of reports, then don't do it, and choose another specialty instead, he said.
Laghi illustrated his point using a blog by a U.S. resident, who described his first impressions of a radiology department. The resident described two off-putting factors: Everyone whispered, and nobody looked up from typing their reports. The author said it was the most boring month of his life, sitting behind other physicians "as they talked gibberish into a microphone." The resident learned nothing about the field and felt neglected.
"This is the impression we don't want to give others about our department," Laghi said, emphasizing that modern radiology is different.
"We are not radiologists anymore, we are imagers, diagnostic or interventional, and we use all modalities. When I first entered radiology as a first-year resident in 1992 in Rome, there were sonographers, CT imagers, and MR imagers, all divided by modality. This isn't acceptable anymore and I hope there is nowhere in the world still working in this way," he said. "Subspecialization is absolutely necessary to offer patients the best service."
He noted that clinical competence was highly important as radiologists are the decision makers, choosing the most appropriate examination for the patient depending on the clinical scenario and factoring in the cost-benefit ratio. In an age when health care costs, and particularly imaging costs are high, it was important to curb inappropriate imaging.
"Expensive doesn't always mean better," Laghi noted, pointing to how some clinicians, unsure of a patient's ailment, will simply send patients for a range of ever more costly exams. "We are the only ones who can drive physicians towards the best examination."
Another incentive to become a radiologist might lie in the abundant funding to bridge the digital gap across Europe, thus improving efficiency in healthcare, he said. For radiologists who experienced the first digital revolution in the 1990s with the transition from analog to digital data, this trend should come as no shock.
Fear of AI
Academic radiologists might still be afraid of AI because they feel they are losing control of data, which could be equally collected and used by cardiologists, noted session chair Dr. Saif Afat from Tübingen University, Germany, during the discussion section.
So why should radiologists not be afraid of AI? To answer this question, Laghi quoted Dr. Curtis Langlotz, from Stanford, California: AI won't replace radiologists, but radiologists who use AI will replace radiologists who don't.
He clarified that while AI's complex computational power will always beat a human when it comes to the automatic reporting of fractures, it won't be able to replace the multidisciplinary team discussion around a complex ovarian cancer case.
The focus in modern radiology should be less on reporting and more on consulting, meaning more subspecialization in academic and large general hospitals, noted Laghi, as well as taking a leading position in multidisciplinary teams. Also, the radiologist should be involved in "participatory medicine," and this means becoming more visible and improving communication skills to exchange well with patients before and after exams.
Modern radiology should also involve research and networking, the quality of the former being dependent on the strength of the latter. The focus in research is shifting more to outcome and value, said fellow speaker Prof. Evis Sala, professor of oncological imaging at the University of Cambridge, U.K.
Sala noted that informal mentorships can be more fruitful than formal programs, as was her experience during her own training, but programs can attract mentors who enjoy the role and can take on more than one resident. Those who don't want to mentor shouldn't do it, as they generally won't be any good, she told the floor during the discussion section.
As for scouting for a mentor, Sala's top tip was to go by "word of mouth": trainees in the year above can tell younger colleagues who is a good mentor and who isn't.