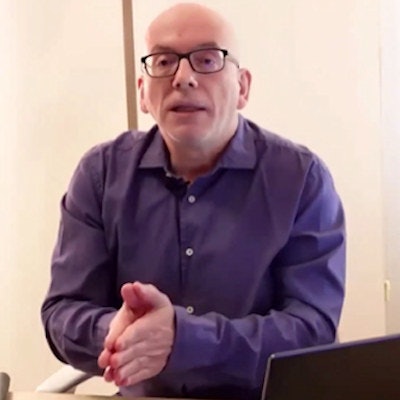 Radiology needs creativity and innovation to survive in the era of artificial intelligence (AI), but the first step is to ensure all procedures are clearly defined, the flow of information is well delineated, and everything is well organized in a department, said Dr. Pablo Valdés Solís at the opening session of the Spanish Society of Medical Radiology (SERAM) congress on 19 May.
"If we continue doing things the same way without being innovative, most of us will disappear. We need to see things in another way, so that the radiology of the future is the radiology that we want it to be," said Solís, who is president of the organizing committee for this year's SERAM virtual meeting.
Radiology is facing a huge increase in demand for its diagnostic tests and ever longer queues, and professionals are being overwhelmed, so there is a great need for change, he explained.
Radiology has two types of threats: external and internal. One of the most important internal threads is AI. Most people think that AI will replace radiologists, but this seems unlikely, according to Solís.
During his talk, he highlighted the work of Margaret Boden, research professor of cognitive science in the Department of Informatics at the University of Sussex, U.K., who embraces the fields of AI, psychology, philosophy, and cognitive and computer science.
She defines creativity as something new, surprising, and that which gives value. She says that creativity consists of ideas -- like concepts, poems, and compositions but also artifacts like paintings, sculptures, and any object that results from the act of creating. She also states that there are three types of creativity:
Exploratory: to explore knowledge barriers (for instance, we are doing an ultrasound scan and we would like to apply this scan for a different pathology)
Combinatory: to pick elements from one field and elements from another field to combine them and see the outcome.
Transforming: to break with everything done before -- "In science, this is difficult because scientists cannot play and break completely with the past. This is very typical of music and art," he said.
Boden also differentiates between psychological creativity (what we do on a day-to-day basis) and historical creativity (the things that remain).
CT and MRI is a historical creation, while a procedural change in the radiology service is a psychological creation, according to Solís.
The need for creativity
"So why do radiologists have to use creativity?" he asked. "There is an important threat that is AI. The integration of AI into the work of a radiologist needs creativity so that AI is not seen as a threat. AI has to be seen as a tool that will help radiologists but not as a threat that will replace them."
Former U.S. president Barack Obama has talked about how AI will change many jobs, and it is important for everybody to adapt and use creativity to integrate AI to develop new tools but not to lose all the work that has been already achieved, he continued.
Among the techniques that can help to boost creativity is the lateral thinking of Edward De Bono, the Maltese physician, psychologist, author, and inventor who talked about "rivers of thinking."
"Our brain builds these rivers that are like 'thought-roads' and are the result of all our experiences. Every time that we have a problem, our brain puts it in this river to find the same solution that proved successful in the past. We do not try to find original solutions, but solutions that gave good results. Our experience in this case is a drawback since we do not use creativity," Solís said.
To apply creativity, we need to ask ourselves the same question five times: Why is it like that?
"We may find out that the main problem was a different one, or we may find an unexpected solution. Or we can apply the naïve expert and try to see the problem as if we were not experts on the field," he said, adding that we do not have to be afraid of asking ourselves questions like: What would have happened if ...? What if a technician does an ultrasound scan? What if he or she does it in another way? Could you imagine if ...?
Creativity has always been associated with art, painting, and theater, but not science. This is changing in all sectors, Solís said.
On the occasion of the centenary of the Science Museum of London, visitors were asked which invention they thought was the most innovative. Above all other discoveries, like DNA, the most valued discovery was the x-ray room. "This shows radiology has a halo of magic and creativity," he noted.
Editor's note: This article is based on a translation of Dr. Solís' presentation by Vanesa Junquero of the European Board of Radiology.