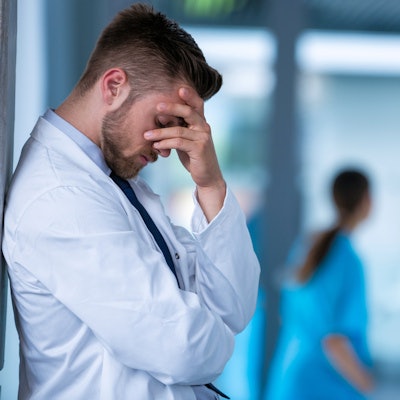 Burnout has reached "crisis levels" in Germany among radiographers and imaging directors, according to a new survey of job satisfaction in four developed countries. In fact, 97% of respondents from Germany reported either "moderate" or "high" burnout levels -- a much higher rate than in other nations.
In the survey, burnout rates -- defined as those reporting moderate to severe levels of job stress -- ranged from 30% to 97%. The numbers demonstrate a "systematic problem across imaging," with high workload cited as the greatest source of stress and burnout by far.
Described in a report titled "Radiology staff in focus," the survey queried 254 radiographers and imaging directors in the U.S., France, Germany, and the U.K. in May and June 2019. The survey was conducted by Philips Healthcare.
Respondents were asked how they feel about work, using a standard inventory for professional burnout. Rates of burnout varied by geography but were relatively high, especially in Germany.
Burnout levels for radiographers by country
Country
Radiographers reporting moderate or high burnout
Germany
97%
U.S.
36%
France
33%
U.K.
30%
"Germany's technologists are voicing crisis levels of burnout, with their managers concurring," according to the research report.
The situation is being exacerbated by inadequate staff levels, Philips noted. The feeling was borne out by the statement of one imaging director in Germany in the free-response section of the survey.
"With the focus on profit, workload has increased in past years, but lack of well-trained staff is a major issue in [our] hospital," the respondent wrote. "Every third position remains vacant. It means we now work 30% more, and if someone is sick or on holiday, the patients go on like an assembly line. It's incredible!"
Meanwhile, in the U.S., imaging directors underestimate the levels of burnout being experienced among technologists: Directors estimated burnout levels at 17%, while 36% actually reported feeling burned out. At the opposite end of the spectrum was France and the U.K., where radiographers reported feeling lower burnout levels than what their imaging directors estimated.
One commonality between the staff surveyed in all four countries was the link between workload and stress, with workload being the top stressor regardless of the country. But stress levels varied, with 95% of German respondents reporting workload as a source of stress, compared with 67% in the U.K., 50% in France, and 40% in the U.S.
Is there hope? Respondents to the survey indicated that automation could be a panacea but, again, confidence levels varied by geography. In the U.S., radiologic technologists and imaging directors believe that as much as 29% of their jobs could be automated, compared with 23% in the U.K., 20% in Germany, and 17% in France.
"The need for automation and artificial intelligence (AI) to improve the staff experience for imaging technologists, administrators, radiologists, and collaborating physicians is not merely a nicety at this juncture; it's a necessity," the report concludes.