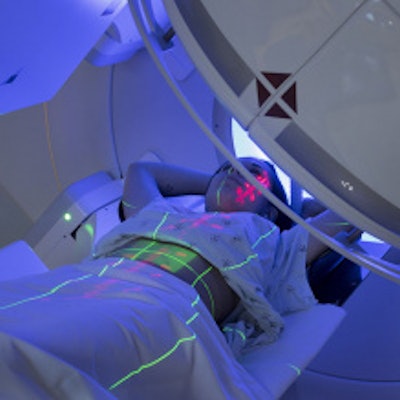 PET/CT scans taken midway through radiotherapy in head and neck cancer cases can help to reveal whether the patients are likely to develop xerostomia, or dry mouth, scientists from the University of Sydney have found.
Researchers led by Dr. Yuvnik Trada of the University of Sydney, analyzed F-18 FDG-PET/CT images and found early metabolic changes in salivary glands of patients who later developed dry mouth. The findings could help doctors develop patient-specific radiotherapy treatments, the authors wrote.
"Integration of baseline and midtreatment FDG-PET/CT changes in the parotid gland with clinical factors has the potential to improve xerostomia risk prediction, which could be utilized for personalized head and neck radiotherapy," the group wrote.
Side effects of radiotherapy in head and neck cancer patients include dry mouth caused by damage to the salivary glands. Xerostomia lasts as long as it takes for the salivary glands to start producing saliva and can be permanent; it is associated with significant morbidity, according to the authors. Midtreatment F-18 FDG-PET/CT scans are used to predict tumor outcomes in patients with head and neck cancer but are not typically used to predict radiation toxicity in normal tissue, the researchers added.
To assess the value of FDG-PET/CT scans in this regard, the group culled images from 56 head and neck cancer patients from two previous studies who underwent FDG-PET/CT at baseline and during week three of radiotherapy. The investigators focused on both the ipsilateral and contralateral parotid glands at each time point based on standard uptake values (SUV) of FDG radiotracer, a marker for metabolic inflammation.
Of 56 patients, 29 (51.8%) developed moderate to severe xerostomia. According to the analysis, there was an increase in SUV at week three in ipsilateral (8.4%) and contralateral (5.5%) parotid glands in these patients compared with normal clinical standards.
"This study is the first to identify mid-treatment FDG-PET metabolic changes in the parotid gland that could be utilized to predict xerostomia," the authors explained.
Currently, management of xerostomia is based on alleviating symptoms using artificial saliva, and there are no proven treatments for reversal of the condition, they noted. Identifying such metabolic changes as found in this study could help doctors modify radiation doses to reduce tissue damage.
"Our results are hypothesis-generating and require validation in a larger cohort prior to clinical implementation," Trada and colleagues concluded.
The study was published online June 15 in Radiotherapy and Oncology.