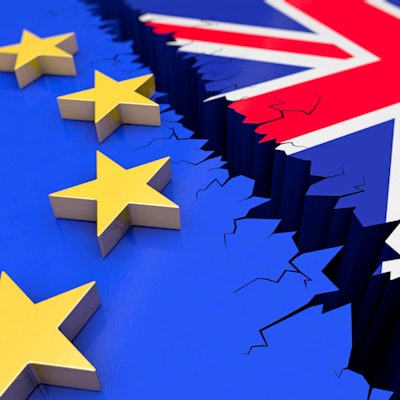 After a dramatic day of twists and turns and three rounds of voting on 20 November, the European Union (EU) chose Amsterdam as the new home of the European Medicines Agency (EMA). Dutch radiologists are welcoming the decision to relocate 900 staff from London to Amsterdam when the U.K. leaves the EU in March 2019.
Amsterdam fended off strong competition from Milan, Copenhagen, and Bratislava, Slovakia, as well as 13 other cities. It looked like the Italians were going to be successful after Milan came out on top in the second round of voting, but when Copenhagen dropped out of the contest, most of its votes switched to Amsterdam and the Dutch won the day.
"In my view it's fantastic news the EMA is coming to the Netherlands," noted Dr. Frits Barneveld Binkhuysen, former president of the Dutch Society of Radiology. "Medical Imaging is moving more and more into smaller (nano) parts, anatomical and functional. This will integrate radiology with pharmacological therapies. For the radiological community, this can be an opportunity to cooperate, looking at the future together."
Dr. Paul Algra, a radiologist with the Northwest Hospital Group at Alkmaar, shares this enthusiasm, but also strikes a note of caution.
"This is great news of course because it means many jobs and a lot of businesspeople needing hotels, housing, and a new building," he told AuntMinnieEurope.com. "On the other hand, Amsterdam is quite busy already and prices of real estate are sky high, though maybe not as bad as it is in London. Overall, I think it is good news as it places Amsterdam on the world map and the center of Europe."
Another clinical radiologist has mixed feelings about the EU decision.
"Although it [the news] is exciting, it is also still a bit far from our beds," said Dr. Aart van der Molen, from Leiden University Medical Center. "To be honest, I think that this will be true for many radiologists in the Netherlands, as only contrast media are dealt with by the EMA. And the most important decision -- gadolinium-based contrast agents -- has already been taken. Maybe physicians prescribing expensive medication will be more enthusiastic, e.g., medical oncologists."
It's unclear whether the development is good for radiology and whether any policy changes can be expected, according to Dr. Gabriel Krestin, PhD, professor of radiology and chairman of the department of radiology and nuclear medicine at Erasmus MC in Rotterdam.
"It is considered here as a success for Dutch diplomacy. Former finance minister and presently CEO at the Free University Medical Center in Amsterdam, Wouter Bos, worked hard to get a majority vote for Amsterdam," he told AuntMinnieEurope.com. "It is mainly a question of prestige that an additional European institution will be situated in the Netherlands. And on top of that it is expected to bring additional 900 employment opportunities and some 30,000 visitors annually to Amsterdam."
Dutch regulatory policies are mainly pragmatic and strongly cost-oriented, and whether this will have an influence on EMA's future policy is unclear, said Krestin, past president of the European Society of Radiology.
The EMA's perspective
The longstanding head of the agency put a much more positive spin on the outcome of the vote, however.
"Amsterdam ticks many of our boxes," EMA Executive Director Guido Rasi said in a statement. "It offers excellent connectivity and a building that can be shaped according to our needs. I am very grateful that the member states took into account our requirements for business continuity and gave priority to the protection of public and animal health."
According to an internal survey published in the summer, a majority of the EMA's staff members would be willing to move with the agency to Amsterdam. They made it clear that moving to Amsterdam, Copenhagen, Milan, Vienna, or Barcelona, Spain, would cause the least disruption, while moving to a smaller city could cause major upheaval to the regulatory system in Europe.
Bitter disappointment
Following the vote, there is likely to be great disappointment in Milan, which put together a compelling case and well-organized campaign, even having its own Twitter account.
"Milan would be able to cope with the EMA requirements, and I am sure that the EMA would benefit from the lively environment that characterizes the city," noted Dr. Arturo Chiti, director of the nuclear medicine department at Humanitas Cancer Center, Milan, and past president of the European Association of Nuclear Medicine (EANM), in an email sent to AuntMinnieEurope.com early on 20 November. Chiti is a professor in diagnostic imaging and radiotherapy at Humanitas University and a member of the editorial advisory board of AuntMinnieEurope.com.
Cost of relocation
The cost of moving the EMA out of the U.K. is thought to be in the region of 521 million pounds (588 million euros), which is 163 million pounds (184 million euros) above the initial estimate, according to a report published in August 2017 by the Express, a U.K. daily newspaper. Deciding on who will meet this cost is still under discussion.
"The EMA has calculated the cost of moving its operations and staff, and paying off the remainder of a locked-in lease that runs until June 2039, at more than half a billion pounds. Officials previously estimated it would run to 358 million pounds," the report continued. "This figure includes 401 million pounds to pay off the rest of the lease, 34 million pounds to kit out its new home, 47.4 million pounds for relocating the agency's 890 strong workforce, and 21.7 million pounds on IT and audiovisual equipment and meeting rooms."
EMA and the Netherlands will now jump-start their collaboration by establishing a joint governance structure to steer and oversee the relocation project, according to the agency. Early next month, the agency will make available a monitoring chart on its website that will allow visitors to track the progress of the relocation, according to the EMA.