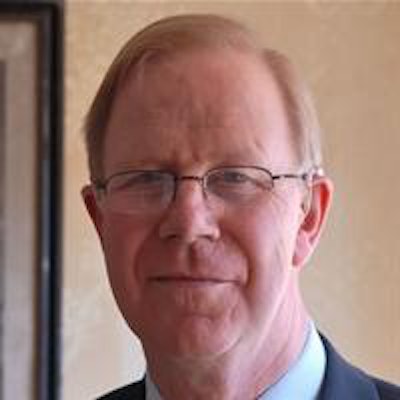 LONDON - Building and maintaining team spirit must be an urgent priority for the global imaging community, said Dr. Adrian Dixon in a special lecture to mark the 40th anniversary of the U.K. Royal College of Radiologists (RCR) on 12 February.
"Radiology and imaging are a team game and we need to work very closely with the radiographers who acquire the images. I'd like to see more fusion in this respect," he noted. "Imaging can now be sent anywhere in the world and the images may be looked at remotely, but in this way, the teamwork becomes fragmented. This concerns me. We don't want physicists, radiographers, and radiologists in separate locations; it isn't good for morale. That is one of my slight anxieties."
On the plus side, Dixon, who is professor emeritus at Cambridge University's radiology department and former editor-in-chief of European Radiology, thinks radiology is now at the front line of medicine.
"Modern medical practice can never be better than its radiology and pathology departments; if those two departments are weak, the whole hospital is weak," he said. "I make a slightly cheap joke that of the two, radiology wins -- as it is better to make the diagnosis with the patient alive rather than dead."
Over the coming years, radiologists will perform yet more interventional procedures, particularly radiofrequency ablation and laser therapy. This is still restricted to major centers, but this will change, he predicted, and in the U.K., this trend will bring radiology closely back to the Royal College of Surgeons (RCS) in ethos as well as location.
Reflecting on research, Dixon highlighted that it was important to generate the health-economic evidence to support the use of one all-encompassing piece of advanced high technology.
"If you can conduct one imaging test that captures all, then you can dispense with 17 other imaging tests and all the associated costs for the health service and patient," he said. "You might even arrive at the point where it is cheaper to do an objective imaging test rather than going to see a clinician. A full consultation with a senior neurologist is expensive, but if you can obtain the information more quickly and reliably on images that can be intricately scrutinized, then it could be better."
The next 40 years
Looking ahead to the next four decades, Dixon explained the path he believed radiology would take.
"I think we will see that with advances in genetics, a patient will have a test to determine their likelihood of disease, and imaging will be targeted to what that patient is most likely to suffer from. Such genetic information will underscore individualized imaging. We probably won't need to do 'blunderbuss' mammography on every person, but rather be directed by their personal genetics."
A combination of risk factors will be incorporated into imaging, according to Dixon, referring to a study in the Netherlands that was already conducting a large population-based imaging survey coupled with genetics.
Support for the elderly
Looking toward the near future, he noted that imaging could provide valuable information to assist with more rational medical decision-making toward the end of life.
"It's so difficult to know whether to do a major operation on a weak or elderly patient. If we could fully image the patient, then it might become clear that actually so many other organs are also failing that it might be kinder not to conduct the operation; whereas another patient might be found to be fit and well and that surgery would indeed be of overall benefit. It might sound big-brother like, but personally I think it makes sense."
Not forgetting the young radiologists and doctors considering radiology as a career who would carry the specialty through the next 40 years, Dixon declared that: "Radiologists are the ultimate detectives. You make the diagnoses. I left general medicine because the fun is in making the diagnosis. Once that's done the course of action is fairly well determined. The fun is putting the pieces together. Radiologists are very privileged and will continue to have that fun."
And in relation to surgery, he pointed out that without first-rate imaging to underpin many surgical procedures, surgeons would find their work extremely challenging. "Surgery is now often done through a keyhole, so if the nature of the patient's problem is inaccurately outlined, then this highly targeted surgery is simply not possible."
Dixon explained how the treatment of breast cancer, for instance, has changed dramatically in no small part due to advances in radiology, including image-guided radiotherapy, replacing conventional techniques.
"Years ago a woman with breast cancer would more than likely undergo a radical mastectomy," he pointed out. "But today, with accurate mammography, ultrasound, and MRI, the cancer can be accurately outlined preoperatively, a radiologist can biopsy subcutaneously, providing information on cell type and stage, and make a rational decision on the type of treatment. Furthermore, our colleagues in oncology can provide chemo-radiotherapy, which may eliminate the need for any surgery at all."
RCR's landmark event
This month marks the 40th anniversary of the RCR being granted its Supplemental Charter to become a separate Royal College rather than just a faculty within the Royal College of Surgeons. The Supplemental Charter came at a time when ultrasound, CT, and MRI all came onto the scene.
"It just exploded," Dixon remarked. "More and more, modern imaging, while criticized by many as being too expensive, can, if used appropriately, save lives, hasten diagnosis, and save hospital beds. With modern radiology, there is less wondering what might be wrong with the patient, while they spend days or weeks occupying a hospital bed; we now know for sure. For this reason, most hospitals that have adopted advanced imaging can manage patients with fewer beds."
Back in 1975, radiology was deemed to have developed enough in its own right and grown away from being the "side-kick" of surgery, such that it could break away from the RCS completely. Initially, the RCR moved to 38, Portland Place, from its location at the RCS in Lincoln's Inn Fields, London, but then outgrew the building to come full circle and return once more to Lincoln's Inn Fields, but at the finely restored number 63, a building dedicated to the RCR, where Dixon gave his lecture.
Once again reflecting on how the 40 years of radiology has come full circle, in the mid-1970s with the critical mass of new imaging technology available there was also a boost in the number of trainees. Similarly today, increasing numbers of new recruits is a key objective of the RCR.
Reagan, the Pope, and CT
Turning to some of the major advances in radiology over the past 40 years that he personally played a part in, Dixon highlighted the growth of CT.
"I think this was the greatest change. It meant we could instantly tell whether a head injury, for example, was serious or not," he said.
But not everyone welcomed the advent of CT in the mid-1970s. Media coverage unfairly claimed that Dixon and others sat in an "ivory tower playing with a new toy," and the investment would be better spent elsewhere in medicine. But ironically, it was also the media that turned around the fortunes of CT, and promoted its wider acceptability and availability.
"Much of my research was proving that CT was cost-effective and of benefit to the patient and referring clinician, but in the early days, I was embroiled in controversy," he said.
Two major world events had a big impact. U.S. President Ronald Reagan was shot, and CT was used to show where the bullet was located and it was removed with pinpoint accuracy. Then, the Pope got stabbed and developed an abscess, and CT was similarly used to accurately identify its location.
"From this moment on, it was like pushing on an open door," Dixon remarked. "I found myself in the right place at the right time. I was lucky to have the run of one of the first body CT machines in London at St. Bartholomew's and lucky that people in Cambridge raised money for a machine."
Asked what he would like to be remembered for, Dixon said he took a lead in randomized controlled trials (RCTs) in the late 70s to mid-90s.
"If I was remembered for anything, it would be for demonstrating the value of imaging using RCTs. Ethically, it's tricky to do because it involves asking a patient to be prepared to receive either the high-technology option or the standard -- they'd always prefer the high-tech test, even if it is unproven."
Clearly an advocate of the RCT, Dixon admits there are challenges with processing and implementing a trial with respect to ethical committee requirements and time scales required to prove benefit.
"It's difficult to prove that high technology saves lives. It's easier to show that it gets patients through the hospital more efficiently and that it provides more accurate diagnoses," he said. "But there are so many other facets that determine patient recovery than imaging alone."
The video of Dixon's lecture is available on the RCR website here and is open access.